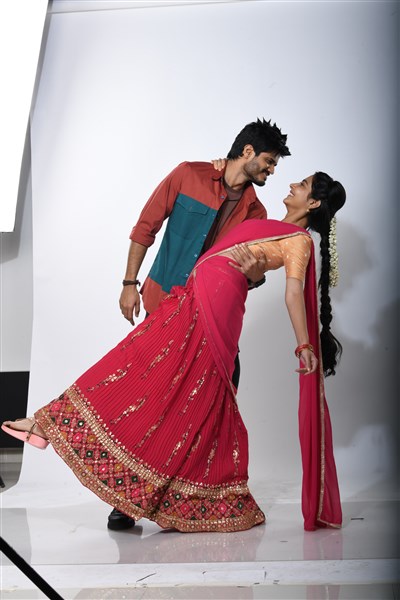 Young actor Anand Devarakonda, who made his presence felt in Tollywood with films like 'Dorasani', 'Middle Class Melodies' and 'Pushpaka Vimanam' scored his careers biggest blockbuster with Baby. He is now coming with an action entertainer titled Gam Gam Ganesha. The recently released intriguing first look and teaser garnered everyone attention.
Continuing the momentum, today makers unveiled the film's first single titled Brundavanive. Star heroine and National Crush Rashmika Mandanna has released Brindavanive lyrical song. Rashmika also released the Premayana song from Anand's last super hit film "Baby". Rashmika wished the best for the movie and she wished that Brindavanive song should be a big hit than previous song. Hero Anand Deverakonda thanked Rashmika for releasing the song.
Coming to the beautiful melody, the title itself gives a serene feel and this melodious magical sung by top singer Sid Sriram, who enchants everyone with his mellifluous voice. The vocals of sensational singer Sid Sriram add an addictive vibe to this music, which will play on repeat on everyone's playlist.
Vijay Polanki's choreography was lovely, especially the beautiful steps of Anand and pragati enchants. This catchy melody has an instantly appealing vibe. With Sid Sriram's soulful voice, Vengi Sudhakar's lovely words, and Chaitan Bharadwaj's magical tune, this melody grows on you. The amazing visuals transport you to the another world. It was magical to witness the beautiful frames, quality visuals and soothing composition.
Anand Deverakonda and Pragati Srivastava chemistry looks adorable and thier amazing moves for the beautiful lyrics are really magical. With cute love scenes and visuals of song recording in the lyrical video the song enchants everyone.
This melody will undoubtedly dominate everyone's playlist. Gam Gam Ganesha is written and directed by Uday Bommisetty. The film is produced by Kedar Selagamashetty and Vamsi Karumanchi under the banner HyLife Entertainment.
Chaitan Bharadwaj has composed the music for Gam Gam Ganesha. Karthika Srinivas R is the editor of the film. The film co produced by Anurag Paravatheneni will be releasing soon in theatres.
Actors:
Anand Devarakonda, Pragati Srivastava,Nayan Sarika, Vennela Kishore, Jabardast Emmanuel,Satyam Rajesh,Raj Arjun and others.
Technical Team:
PRO – GSK Media
Costume Designer : Poojitha Tadikonda
Art: Kiran Mamidi
Editor: Karthik Srinivas
Cinematography: Aditya Javadi
Music – Chaitan Bhardwaj
Banner – Hi-Life Entertainment
Lyrics : Vengi Sudhakar
Choreography: Polaki Vijay
Co-Producer – Anurag Parvataneni
Producers – Kedar Selagamshetty, Vamsi Karumanchi
Written and Directed by – Uday Bommisetty