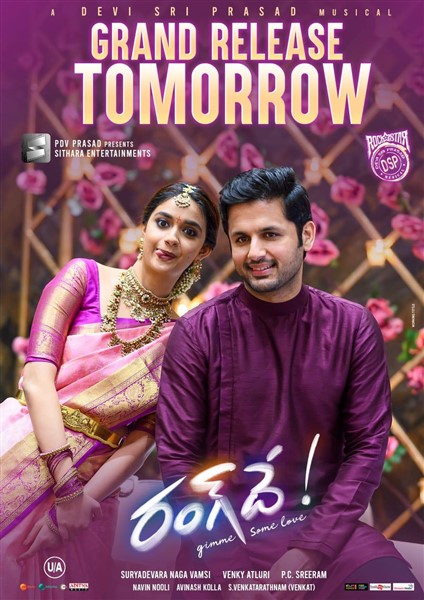 Youth star Nithiin and Keerthy Suresh starrer 'Rang De' is gearing up for a worldwide release on March 26th. The film written and directed by Venky Atluri is getting a lot of positive buzz, all thanks to the trailer and lyrical videos released recently. 'Rang De' grand release event was held in a splendour manner in Rajamahendravaram.
Director Venky addressed the gathering first and said, "I have a connection with Rajamahendravaram and happy that 'Rang De' event is taking place here. Basically I did not confine myself to do only love stories but it just happened. 'Rang De' is like Holi festival that we see too many colors on a single day. This film will have many emotions."
Adding the director said, "Nithiin's comedy timing will be something else in this movie. He will bully Keerthy Suresh but she will get her share of revenge. She is no ordinary woman and definitely 'Rang De' will entertain everyone especially family audiences."
Venky offered apology to music composer Devi Sri Prasad on this occasion. "When I heard the song 'Bus Stande.. Bus Stande..' I did not like. But DSP was sure that the song will be a huge hit and he even scolded me. After the release of the song and when it was getting millions of views, I realised I was wrong. I'm sorry DSP," concluded Venky.
Music composer Devi Sri Prasad said, "A few days back I was here for 'Uppena' event and I'm back yet again. So happy to be in Rajamahendravaram. First of all I would like to thank everyone for making 'Rang De' music a huge success. This film has romance, comedy, entertainment, sentiment and will appeal to both family and youth audiences. I thoroughly enjoyed while doing the background score. Director Venky has crafted the film extremely well, so thank you director Venky for giving me to work in a romantic entertainer like 'Rang De.' Also thanks to Sithara Entertainments and Naga Vamsi."
Further DSP said, "From the beginning of my career, love stories have brought me a big name. films like 'Anandam' 'Varsham' were the films in those days and now 'Uppena' and 'Rang De' are the ones that I'm happy to work."
"This is my first film with Nithiin and he pumped my energy levels with his feedback for every song. His performance will be like a beautiful graph in this movie. He transforms from a playful youngster to a matured man. The chemistry between Nithiin and Keerthy is major highlight and asset for the film," summed up DSP.
It was hero Nithiin's turn then. "Rang De is releasing on March 26th and I'm sure that you all will like it. This is a family entertainer and will be liked by everyone. This is my third film in Sithara Entertainments banner. 'A Aa' and 'Bheeshma' were huge hits and I hope to score a hat-trick with Sithara. Due to some reasons my producer Naga Vamsi could not make it to the event," said Nithiin.
"I know director Venky since long time and finally we worked together. Also this is my first film with music composer Devi Sri Prasad. He did give an amazing music. After the release of 'Rang De' the songs will turn even big hits and will be remembered for long. Thank you DSP for fantastic music. I hope more and more films come in our combination," added Nithiin.
On Keerthy Suresh Nithiin said, "Keerthy is a terrific actor and she played her real self in the movie. She tortures everyone and director Venky got inspired by her and penned this story. Watch 'Rang De' in theatres on March 26th and then 'Vakeel Saab' on April 9th."
Lastly Keerthy spoke and said, "Thanks to director Venky for making me part of this romantic comedy. I'm eagerly looking forward to score hat-trick hits with music composer Devi Sri Prasad. Nithiin is one of the best co-stars and I would like to clarify one thing. If you watch 'Rang De' trailer, I'm the villain but it's not true. Nithiin is the villain and I take revenge in the second half. But don't get carried away, watch the film in theatres and get to know the real twist. Bless us all and go watch 'Rang De' in theatres from March 26th."
Sree Mukhi hosted the grand release event of 'Rang De' while Kali Teja, Avinash Kolla and others graced the occasion. Nithiin and 'Rang De' team took part in 'Yuvatha-Haritha' initiative and planted a sapling.
Nithiin, Keerthy, director Venky and DSP shook their leg on stage while DSP made Keerthy sing too.