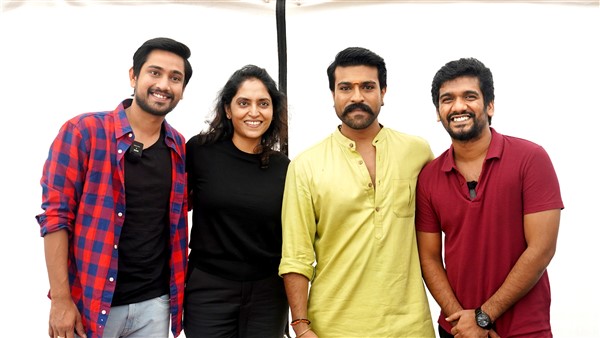 Young and talented hero Raj Tarun has teamed up with director Sreenu Gavireddy for an out and out entertainer Anubhavinchu Raja being produced by Annapurna Studios Pvt Ltd, in association with Sree Venkateswara Cinemas LLP (SVCLLP).
King Akkineni Nagarjuna launched first look of Anubhavinchu Raja few days ago and it got tremendous response. Today, mega power star Ram Charan has unleashed teaser of the movie. "I thoroughly enjoyed Anubhavinchu Raja teaser. You too will love it. All the best to the entire team," said Ram Charan.
The teaser starts off showcasing Kodi Pandem (cock fighting) setup in Bheemavaram and an announcement of welcoming all the Pandem Rayullu. Raj Tarun is introduced in style as a gambler who leads life in his own terms. He is seen betting, gambling, playing cards and dancing in record dances.
"Ayina Bangaram gadu oorloni aadi punju barloni undagaa unkodu gelavadam kashtam ehe…" boasts Raj Tarun who feels pride in twirling his moustache. It's an apt character for Raj Tarun who is full of energy. Gopi Sundar's background score is the other major asset. Anubhavinchu Raja track as the BGM adds hilarity.
Production design looks grand, while the rural ambiance is colorful due to the good camera work by Nagesh Banell. On the whole, Anubhavinchu Raja is highly entertaining and promises the film is going to offer unlimited entertainment in theatres.
Kashish Khan is the leading lady opposite Raj Tarun in the movie produced by Supriya Yarlagadda. Bhaskarabhatla is the lyricist and Chota K Prasad is the editor.
Currently in post-production stages, Anubhavinchu Raja is gearing up for its theatrical release.
Cast: Raj Tarun, Kashish Khan, Posani Krishna Murali, Aadukalam Naren, Ajay, Sudharshan, Tempar Vamsi, Aadharsh Bhalakrishna, Ravi Krishna, Bhupal Raju, Ariyana
Technical Crew:
Written & Direction: Sreenu Gavireddy
Producer: Supriya Yarlagadda
Banners: Annapurna Studios Pvt Ltd, Sri Venkateswara Cinemas LLP
Music: Gopi Sundar
Executive Producer: Anand Reddy Karnati
Cinematographer: Nagesh Banell
Editor: Chota K Prasad
Lyrics: Bhaskara Bhatla
Art Directors: Supriya Battepati, Ramkumar
Choreographer: Vijay Binni
Fight Master: Real Sathish
Costume Designer: Rajini.P
Co-Director: Sangamitra Gaddam
Pro: Vamsi-Shekar