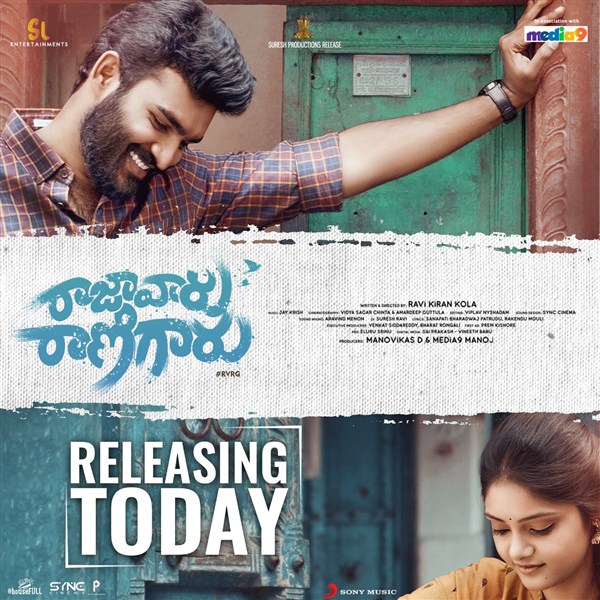 Film: Raja Varu Rani Garu
Cast – Kiran Abbavaram, Rahasya Gorak, Rajkumar Kasireddy, Yazurved Gurram, Snehamadhuri Sharma, Divya Narni
Written and Directed by – Ravi Kiran Kola
Production House – SL Entertainments
Producer – Manovikas D
Music – Jay Krish
Cinematography – Vidyasagar Chinta, Amardeep Guttula
Editing – Viplav Nyshadam
Lyrics – Sanapati Bharadwaj Patrudu, Rakendu Mouli
Production team – Nanda Lokasani – Marripalem Vinesh Sai Santosh – Challapalli Vishal – Satish Varaputra – Mohan – M. Krupa Roy
Release Date: November 29, 2019
www.Moviemanthra.com;Rating: 3.25/5
Story:
Raja loves Rani but he is not able to express his love for her. He makes multiple attempts but fails in conveying the same to her. His friends Chowdary and Naidu help him to achieve love. What happened then? Did he confess his love? What happens in the end? Forms the story of the movie.
Performances:
Kiran Abbavaram plays Raja who surfs through the years to express his love with never-ending efforts. The film doesn't attempt anything profound, but gradually shows the perseverance of a man. Rahasya Gorak is one of the few actors who can fluently speak with just her eyes. She plays Rani, an introvert, who lives with her father and grandmother and whose world is very limited. The friends' roles came out well. Both actors have given their best for the film, in terms of the performances.
Technical Aspects:
Amardeep Guttula's and Vidya Sagar's DOP make sure you know every corner of the village and the water channels which it looks out to. What also deserves a special mention are the beautiful songs, with music director Jay doing a brilliant job of them and wonderful editing by a one movie experienced Viplav Nyshadam. This man has already proven his ability and expertise through Mental Madilo, his first and successful attempt.
Plus:Points
Performances
Comedy
Story
Minus:Points
Slow Narration
Verdict:
Ravi Kiran Kola's Raja Varu Rani Gaaru is a rom-com shot in the villages of East Godavari, Andhra Pradesh. The film has simple scenes that take one back to childhood with people using plastic covers on their heads when they walked in the rain and using the water channels as swimming pools. His story and narration snatch your heart away, helped by some really powerful performances by new faces and young technicians. RajaVaaruRaniGaaru gives all the actors the chance to prove their talent and every one of them delivers unfailingly in this charming little movie, ably directed by first-timer.
Punch Line: A Breezy romantic entertainer