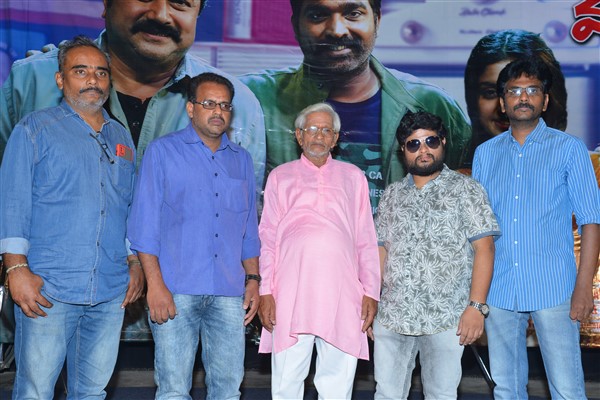 'Maarconi Mathaai', the Malayalam movie starring Vijay Sethupathi and Jayaram, is releasing in Telugu as 'Radio Madhav. Presented by Gundepudi Seenu', the film is brought to the Telugu audience by Lakshmi Chennakesava Films' owner and producer DV Krishnaswamy, who has previously produced Dulquer Salmaan-Sai Pallavi's 'Hey Pillagaada'. Bashya Sri, who has previously worked on 'Bicchagadu' and other movies, has penned its dialogues and lyrics. The makers have announced that 'Radio Madhav' is going to release in theatres on April 23. Today, an event was held at Prasad Labs in Hyderabad.
Producer DV Krishnaswamy said, "Our film has an ensemble cast. A feel-good entertainer, it says that nobody knows when and how love takes birth in an individual. Jayaram's character falls in love in the film. Due to his age, the distance in love grows. How Vijay Sethupathi's character brings the lovers together is the story. The visuals are rich. The songs have come out really well. Well-known singers have sung them. Bashya Sri has penned them amazingly. You won't see 'Radio Madhav' as a dubbing movie. The audience will get the feeling of watching a straight movie."
Jayaram, speaking via a video clip, said, "I have done 'Tenali' and 'Panchatantram' with Kamal Haasan more than 15 years ago. I recently did 'Bhaagamathi' with Anushka Shetty and 'Ala Vaikunthapurramuloo' with Allu Arjun-Trivikram duo in Telugu. I am happy that my Malayalam film 'Maarconi Mathaai' is releasing in Telugu as 'Radio Madhav'. It's a beautiful film."
Executive Producer S Srinivasa Murthy said, "I hope the audience will encourage our feel-good movie by watching it only in theatres."
Presenter Gundepudi Seenu said, "Love is a great feeling. It's very pure. This film shows that love knows no age."
Co-producer DV Chalam said, "My son is producing this movie. He has put in a lot of effort to make it look like a straight film. It feels like a Telugu film."
Bashya Sri said, "I have penned the film's dialogues and lyrics. Vijay Sethupathi garu said that he had separated lovers in 'Uppena'. In 'Radio Madhav', he is going to unite lovers. He is the film's hero, and has played his real-life character. His and Jayaram garu's characters have come out really well. Love knows no age. I was reminded of Venkatesh garu's movies watching it."
Cast:
Vijay Sethupathi, Jayaram, Athmiya Rajan, Purna, Naren, Aju Varghese and others are part of the cast.
Crew:
Presenter: Gundepudi Seenu. Dialogues-Lyrics: Bashya Sri. Editing: Shameer Muhammed. Cinematography: Sajan Kalathil. Music Director: M. Jayachandran. PRO: Naidu Surendrakumar-PHani Kandukuri (Beyond Media). Executive Producer: N Srinivasa Murthy. Co-Producer: DV Chalam. Producer: DV Krishnaswamy. Story-Director: Sanil Kalathil.
Naidu Surendra Kumar (PRO)
Talk : 90000-13274