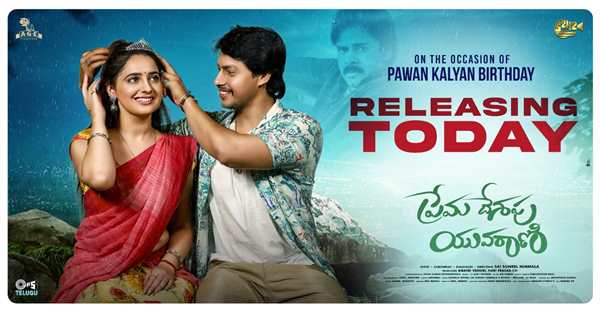 Movie: Premadesapu Yuvarani
Moviemanthra.com;Rating: 3.25/5
Cast: Mehboob Basha, Harikrishna, Yogi Kadri, Raghu, Sunita, Manohar, Pawan Mutyala, Raja Reddy, Sandeep, Sravanti, Banda Sai, Bakka Sai, Pratyusha, Gopinaidu and others
Camera: Sivakumar Devarakonda
Music: Ajay Patnaik
Editor: MR. Verma
Lyrics: Kasarla Shyam, Sai Sunil Nimmala, Bhanu-Krishna
Choreography: Kapil, Sriveer
Fights: Shivraj
Costume Designer: Mahi
Publicity Designer: MKS Manoj
Producers: Anand Vemuri, Hariprasad CH
Written – Directed by: Sai Sunil Nimmala.
'Premadesapu Yuvarani,' produced by Anand Vemuri and Hariprasad CH and directed by Sai Sunil Nimmala, offers a clean and engaging cinematic experience. Starring Yamin Raj, Virat Karthik, and Priyanka Revri in prominent roles, the film is a refreshing addition to Telugu cinema.
Story:
Set in Amalapuram, the film revolves around Cherry (Yamin Raj), a carefree individual with little ambition. However, his life turns when he encounters Shravani (Priyanka Revri), whom he falls in love with at first sight. Cherry's determination to win Shravani's heart leads to unexpected challenges, including the revelation of her love for Ravi (Virat Karthik), a lecturer preparing for civil services. Meanwhile, a series of mysterious murders in the same village catches the attention of the police. The film explores the secrets behind these murders, the identity of the culprit, and the complex relationships between its characters.
Performances:
Yamin Raj delivers an impressive performance as Cherry, showcasing his versatility in handling various aspects of the character. Virat Karthik, portraying Ravi, the resolute lecturer, stands out with his strong screen presence. Supporting actors like Mehboob Basha, Banda Sai, and Bakka Sai, who play Cherry's friends, leave a positive impact. Sandeep and Pawan excel in their roles as antagonists, and the rest of the cast adds depth to the film's narrative.
Technical Aspects:
Sai Sunil Nimmala's direction ensures that 'Premadesapu Yuvarani' is family-friendly, avoiding double-meaning humor or excessive comedy. The music by Ajay Patnaik, featuring songs like 'Bangaram Bangaram Na Nuditirata Marche Bangaram' and 'Tholimuddu,' contributes to the film's charm. Shivakumar Devarakonda's cinematography captures natural beauty effectively, and M.R. Varma's editing maintains the film's pace. The production values, spearheaded by Anand Vemuri and Hariprasad CH, reflect a commitment to quality.
Plus Points:
Performances
Direction
Story
Music
Minus Points:
Few Lag Scenes
Verdict:
'Premadesapu Yuvarani' offers a pleasant and wholesome cinematic experience. It engages the audience with its intriguing storyline and relatable characters. The film's ability to connect with viewers and provide a feel-good atmosphere ensures that it leaves a positive impression. Overall, it's a movie that appeals to a wide audience and leaves them with a sense of satisfaction.
Punchline: A Pleasant Entertainer