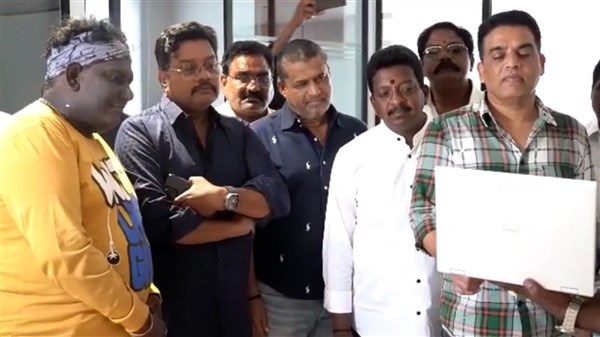 Prashanth Tanguturi is producing the movie 'Natho Nenu' directed by Shanti Kumar Thurlapati (Jabardust fame) starring Saikumar, Aditya Om, Aishwarya, Rajeev Kanakala, Srinivas Sai and Deepali Rajput. Recently released songs from this film are entertaining the listeners. The film is going to have a grand release on 21st of this month. Recently the trailer of this film has been released by top producer DilRaju. Later, he said, "I am happy to unveil the trailer of Natho Nenu". Triangle emotions were shown in the trailer. Very good. Everyone knows about Saikumar's performance. Along with him, the artistes acted brilliantly. All the best to the team," he said.
Shantikumar said, "The audience welcomed me as a Jabardast comedian. Now I have taken another step forward and made my first attempt as a director. I have written the story, words and songs myself and completed this movie with the help of good producers. It is a film with all love and emotion,' he said.
The movie "Natho Nenu" has completed all the programs. All the recently released songs have received good response. We are going to release this film in a grand manner on 21st of this month," said producer Prashanth Tanguturi.
Actors:
Sameer, CVL Narasimha Rao, Gautam Raju Mms Choudhary, BhadramDr Suman Shetty etc.
Technicians:
Camera: S Murali Mohan Reddy,
Music: Satya Kashyap, Background: S Chinna, Editing: Nandamuri Hari, Art: Peddiraju Addala, Lyrics: Ramajogaiah Shastri, Shantikumar, Choreographer: Bhanu, Chandra Kiran
Fights: Nandu,
Banner: Sri Bhavnesh Productions
Presented by: Ellalu Babu Tanguturi, Prashanth tanguturi
PRO: Madhu VR