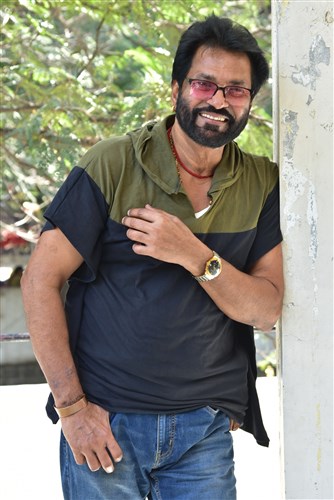 "Narakasura" starring Rakshit Atluri of "Palasa" fame. Aparna Janarthan and Sankeerthana Vipin are going to be seen as heroines. The film is produced by Dr. Ajja Srinivas under the banners of Sumukha Creations and Ideal Film Makers. Directed by Sebastian Nova Acosta Jr. Narakasura movie is going to release in Hindi, Tamil, Malayalam and Kannada along with Telugu on November 3. Charan Raj, who played a key role in this movie, interacted with media about the film, here's the transcript
– With Pratighatana and Gentleman movies, Telugu audience forever remember me as an actor. I acted in about 600 films in different languages. I came into the industry without any background. I had a passion to act in movies. I struggled for 8 years. That hard work resulted in a 40-year career. I have done many different characters in this long career. I acted as a villain with stars like Chiranjeevi and Balakrishna. Now I am telling you not to bring anything like that to me again. As an actor, I want satisfaction more than money. If you have a good character, I will act even if they are not paid. That's why I said that even though I got a lot of offers in the middle, I will not play police characters like the gentleman man in the past. That's why I got some gap in Telugu. I have done films with Yash in Kannada and Mammootty in Malayalam even though I got some gap in Telugu.
– When director Sebastian told the story of "Narakasura", I was impressed with the novelty of the story. That's why I did this movie again. As a director, this film was made with a new approach. The movie will give a new cinematic experience to the audience. If you watch the movie in theaters tomorrow, you will understand that this is true. If this story is told in details, the interest of watching it in the theater will be lost.
– In the movie "Narakasura" I played a snake-like character. That means he is good with good people and bad with bad people. This is a unique character that I have done in my career. My son also acted in this movie along with me. He was also given a different character by director Sebastian.
– I liked director Sebastian's commitment and dedication while making the movie "Narakasura". If he started shooting in the morning, he would work till night with the same enthusiasm. He would also do set boy work if needed. There is no ego and it never appeared. He is passionate about cinema. That's why he worked persistently even if he lost his arm due to an accident.
– Hero Rakshit acted very well in the movie "Narakasura". He will be a good action hero with this movie. Rakshit is a hero with a bright future. He is also very fond of cinema.
– In the past, I, Mohan Babu, Prakash Raj, Kota garu, there were many limited villains like this. But now that trend has changed. Today there is no hero and villain. People like Sanjay Dutt, Jagapathi Babu, Arjun are all acting as villains. To play a good character and to win the audience's favor is the only goal of every actor today.
– Telugu cinema industry is the best film industry. Technicians and artists here have a good reputation in Bollywood and Hollywood. Telugu cinema quickly adapts to any new technology. That is why movies are being made here with a budget of hundreds of crores of rupees. One hundred, one hundred and fifty crores remuneration is being given to the heroes. Tollywood's young generation is following the path of directors like Dasari, Raghavendra Rao and T Krishna in the past.