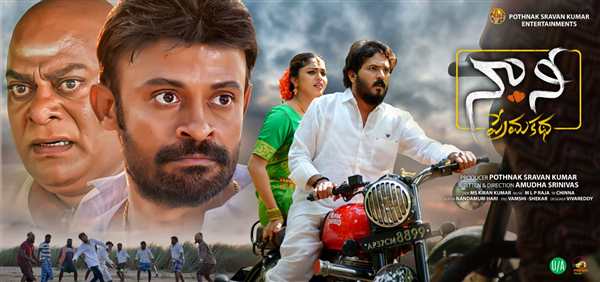 Movie: Na Nee Prema Katha
Cast: Amuda Srinivas, Karunya Chaudhary, Ramya Sri, Ajay Ghosh, Shafi, Fish Venkat, Annapurnamma
Camera: MS Kiran Kumar
Music by: MLP Raja
RR: Chinna
Editor : Nandamuri Hari
Production: PS Entertainments
Producer: Potnak Shravan Kumar
Written and Directed by: Amuda Srinivas
Rating: 3/5
Story:
The film 'Na Nee Prema Katha' introduces us to Nani (Amuda Srinivas), a humble paperboy in a quaint village. Ajay Ghosh plays the role of the village headman, and his daughter, Nandini (Karunya), returns from Hyderabad with dreams of establishing a hospital in her hometown. Love sparks between Nani and Nandini, but Guna (Shafi) also harbors affection for her, leading to a complex love triangle. Naidu (Ajay Ghosh), Nandini's father, isn't pleased with Nani's love and schemes to harm him. However, Guna intervenes. This sets the stage for a story of love, rivalry, and unexpected twists.
Performances:
Amuda Srinivas and Karunya Chaudhary deliver authentic performances portraying rural characters. Karunya, despite her urban education, convincingly embodies the essence of a village girl. Shafi shines in his role as Guna, and the supporting cast, including Ajay Ghosh, performs their roles effectively.
Technical Aspects:
Technically, the film has its merits. Love and emotional scenes are well-executed, though the screenplay could have received more attention. The cinematography by MS Kiran Kumar captures the rural beauty effectively, even though some moments lack vibrancy. Editing is satisfactory, and the music by MLP Raja, both songs and background score, leaves a positive impression. The climax twist stands out as a highlight.
Plus Points:
Performances
Story
Direction
Music
Minus Points:
Few boring scenes
Verdict:
The director manages to maintain suspense and intrigue in the story, particularly regarding Guna's character development. However, as the director takes on the lead role, the film occasionally loses its direction, possibly due to the dual responsibilities. Perhaps casting a different actor as the lead could have alleviated this pressure and enhanced the overall output.
'Na Nee Prema Katha' successfully maintains production values throughout. Despite being a conventional love story, it manages to engage and entertain the audience. It's a film you can watch with your family, free from high expectations, and still find it enjoyable.
Punchline: An Engaging Love Triangle