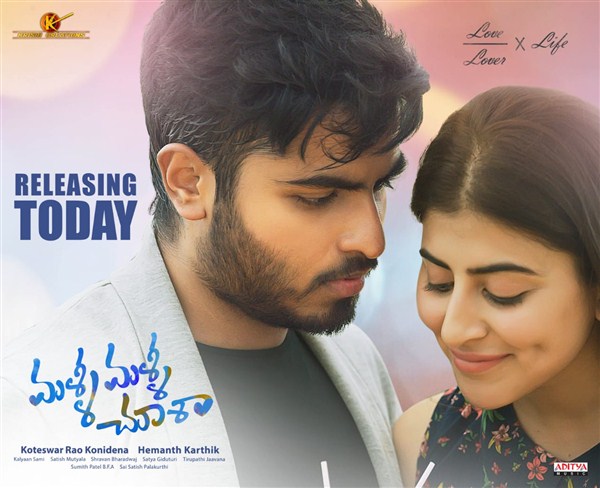 Film : Malli malli chusa
Release date : October 18, 2019
 www.Moviemanthra.com Rating :  3/5
Starring : Anurag Konidena, Shweta Avasthi, Cairvee Thakkar
Director : Hemanth Karthik
Producers : Konidena Koteswara Rao
Music Director : Sravan Bharadwaj
Cinematography : Satish Mutyala
'Malli Malli Chusa' movie which got released today on October 18th is a small budget movie. Anurag Konidena played the lead role in this movie under the direction of Hemanth Karthik. Shweta Avasthi and Kairavi Thakkar played the female leads in this movie. Touted to be a youthful entertainer, K Koteswara Rao bankrolled this project. Let's check out the review of the movie.
Story:
Gautham (Anurag Konidena) is an orphan and army major (Ajay) raises him. One day, he finds a book written by Swapna (Swapna Awasthi). It is a long story and Gautam falls in love with Swapna after reading that book. He decides to meet and return that book back to Swapna. He travels all the way from Vizag to Hyderabad. Did Gautham met Swapna? What happened to Gautham's love? Forms the rest of the story.
Performances:
Though this is a debut film, Anurag did a good job in delivering a good performance in the. Especially in the action sequences, his performance is superb. Also, his expressions in the emotional scenes and comedy scenes is good. Though Ajay got less screen time, he will definitely grab the attention with his intense performance in the movie. Swapna looked extremely gorgeous in the film. Kairavi Takkar also performed well. Comedian Bamchik Babji's comedy timing is nice. Annapurna as Upma Bamma is too good in her role. The rest of the actors also made their presence felt.
Technical Aspects:
We have already seen a couple of movies where hero or heroine falls in love after reading the diary. Despite having a refreshing story, director has failed to treat it well. His poor execution and weak narration will test the audience patience of the audience. Also, his screenplay is not at all engaging. Some scenes even felt repetitive which will make the audience lose the interest on the film. Background score is just average. Even the songs are also not that great. Editing is extremely bad. Cinematography is just average. Considering the fact that the movie is a small budget film, the production values are decent.
Verdict:
'Malli Malli Chusa' is a routine Love Story with no major twists. The slow paced narration, draggy scenes, random screenplay can be considered as the major setbacks of this film. A couple of comedy scenes are fine and the performances are good. Except for these two, there is nothing much to talk about the film. Especially the second half is too slow and irritating. Overall, 'Malli Malli Chusa' is a failed attempt and can be skipped.