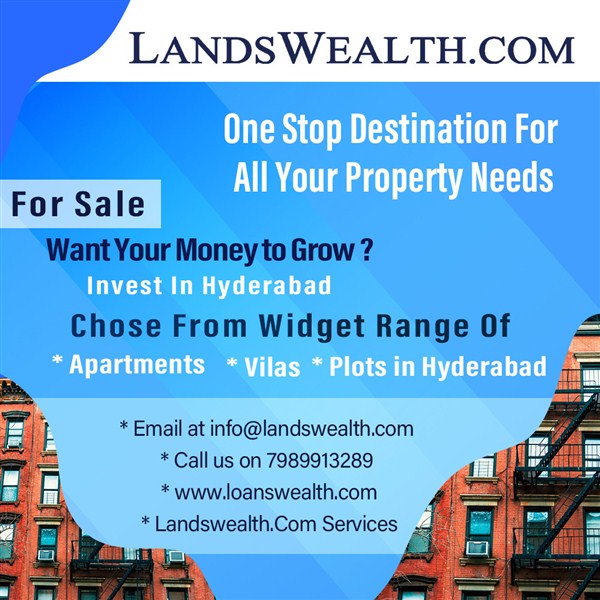 Landswealth
Email: info@landswealth.com
Mobile: 7989913289
Website: www.landswealth.com
In doing many things related to land, from buying/selling to its maintenance and usage, there is a lot to see and be careful about. These range from getting people to buy/sell to authentication and securing the land from any possible grabbings or other forces. Landswealth provides complete assistance in all the spheres of necessity and lets the clients be confident and secured in all of their affairs related to land.
Landswealth services in detail:
• Buying / Selling Assistance:
When you need to buy or sell real assets, proper paperwork needs to be prepared and legal formalities need to be done. Landwealth's team of expert lawyers will carry out these processes and ensure that your transactions flow smoothly.
Aside from helping with paperwork and legal formalities, Landswealth provides other worthwhile services including:
Property Buying Assistance:
People would buy properties for residence and other usage and also as an investment. Landswealth recognizes this and provides Property buying assistance that caters to all those needs.
It assists you in buying the right property for best rates and investment growth making sure that you get the best deal and meet your long term investment goal. The properties include Apartments, Open plots, Villas, and more.
Specifications of lands for development and joint ventures:
If you have a piece of land and need advice how to develop it or have a nice development idea but do not understand the specifications of land to acquire, Landswealth has knowledgeable people who thoroughly analyze the context, take into account of your ideas, budgets, etc and come up with a specification that efficiently and effectively utilizes the available resources and fulfill your goals. Landswealth is also able to provide specifications for providing a base for joint ventures.
In Addition to this, Landswealth also connects the right builders to the landowners thus helping to kick off the plans.
• Realty Authentication:
Acquiring or selling lands would typically involve huge sums of hard-earned money. This means that proper authentication is a must while doing any affair with lands. Landsewalth provides a range of checks and verification on the authenticity of a particular buyer/seller to make sure that you are dealing with the right persons and not a fraud. That range includes:
Pahani & Other Documents Checking:
Landsewalth ensures that all the document filed is good and only genuine owners are involved. They include Pahani documents, Land deeds, Encumbrance Certificate, and others.
Legal Verification:
The Landswealth legal team makes sure that land is not a part of any ongoing disputes which can bring you a plethora of problems if acquired.
Technical Verification:
Landswealth would survey that land and see that it agrees with all the specifications of land area, infrastructure, and others.
Approvals for New Ventures / Companies:
Getting Approvals and permissions for any new ventures or companies may look daunting or out of the schedule for many people. Landswealth would set all the appropriate documents and consult required authorities for getting approval for your project.
• Protection / Security:
Your land needs protection/Security from primarily two aspects: potential land grabbers and changes in government policy that you need to be updated on. Landswealth provides these by:
Property Security Services:
If the land is vacant for a long time and in areas with less human activity, It is highly prone to land grabbing. Landswealth provides highly trained and professional security personnel who would secure it from any form of land grabbing.
Realty Shielding:
This is a regular service where Landswealth periodically visits your lands and makes sure everything is aligned well. If there are any policy changes that require changing or creating certain documents and require some formalities, it would take care of them.
About Landswealth:
Owned By Entrepreneur Shivaji Kale and Venu Babu Patibandla who has 15 years of experience in the field, Landswealth has been helping people do land and property business hassle-free for years. It offers the best deals on plots, villas, apartments, and makes sure that their client's investment plans generate guaranteed ROI. Landswealth also facilitates loans from major banks with seamless processing.