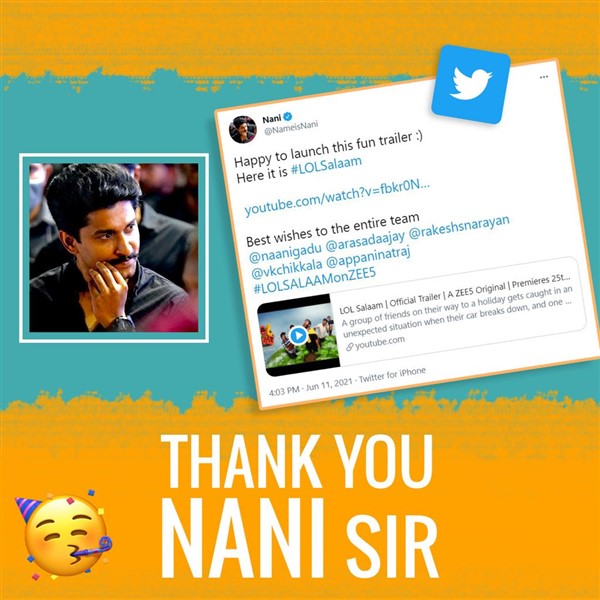 ZEE5 released the official trailer for the upcoming Telugu entertainer webseries 'LOL SALAAM', which is set to release on 25th June on ZEE5 OTT Platform.
This is a story of a group of friends from Hyderabad decides to take a vacation. But their car breaks down en route, and one of them unwittingly steps on a landmine in forest.
The trailer was launched and applauded by "Natural Star" Nani through twitter.
Creator and director Naani has completed this project with his new young team, being the ultimate goal to make everyone laugh in this tough times.
The actual cache of this series is more than 40 new artists has been introduced to the screen including 5 new leads.
Principal cinematography started during the Unlock 2020. Starring Bharadwaj (John), Srinivas Reddy (Khan), Darahas Mathur (Naidu), Kivish Kautilya (Reddy), Rohit Krishna Varma (Varma), Pavan Kumar (Babai), Padmini Settam (Sahasya), Praveena (Supraja), Gayathri (Swarna) & Aishwarya Bala.
LOL SALAAM webseries is created and directed by Naani. Music composed by Ajay Arasada with cinematography by Rakesh S Narayanan and Venkat Krishna Chikkaala as the editor.