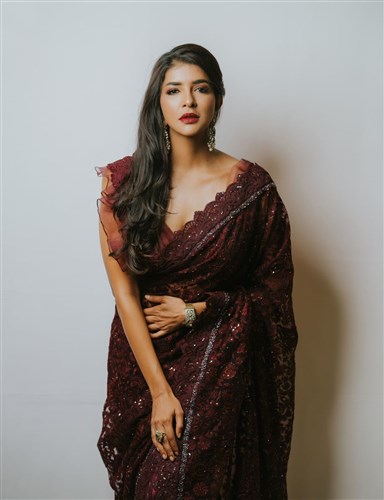 Lakshmi Manchu, currently busy with the post-production phase of her upcoming film "AgniNakshatram," which also features her father Mohan Babu, has announced the adoption of several schools in Hyderabad through her NGO, Teach for Change. This significant initiative aims to provide quality education and support to underprivileged students in the region. A total of 167 schools have been adopted, with 15 schools in Hyderabad, 25 in Rangareddy, 81 in Yadadri, 16 in Srikakulam, and 30 in Gadwal.
Teach for Change has undertaken this noble cause with a vision to transform the educational landscape and empower children through innovative teaching methodologies. The tentative count of students benefiting from this adoption stands at an impressive 16,497. When asked about the selection process for schools in Gadwal, Lakshmi Manchu shared, "We identified schools in Gadwal based on specific criteria- minimal or no access to digital classrooms, a minimum of 50 students from grades 1 to 5, willingness to adopt the Teach for Change smart classroom curriculum and readiness to conduct baseline, midline, and endline tests to document students' progress."
As the Managing Trustee of Teach for Change, Lakshmi Manchu plays a crucial role in overseeing all the day-to-day activities related to the programs under Teach for Change. The organization works closely with the selected schools, offering training and support to teachers. They are actively involved in designing and creating an audio-video curriculum, generating reports, and assessing the children's progress.
Despite her commitments as an actress and producer, including her involvement in the post-production phase of her upcoming film AgniNakshatram, Lakshmi Manchu effectively manages her time. She shared, "I love multitasking and ensure that I plan my schedule accordingly. I am available for my team at all times and personally attend meetings with dignitaries. I am fortunate to have a dedicated team to rely on."
When asked about the sustainability of the programs and initiatives in the adopted schools, Lakshmi Manchu explained, "We have collaborated with District Collectors, District Educational Officers, and government school teachers to ensure the successful implementation of the program throughout the academic year. Their invaluable support and partnership contribute to the sustainability and growth of our initiatives."
Teach for Change believes in expanding its reach to other regions in the future. Lakshmi Manchu stated, "We have smart classrooms established in Hyderabad, Rangareddy, Yadadri, Srikakulam, and Gadwal districts. We are actively considering other districts to implement smart classroom initiatives and make a difference in the lives of more students." Teach for Change's collaboration with the Telangana Government is not an adoption program, but an MOU signed with the district administration to establish smart classrooms for government school teachers.
Furthermore, Lakshmi Manchu emphasized the importance of collaboration between the government and NGOs like Teach for Change to improve the education system in India. She mentioned, "The government can support and encourage NGOs in introducing new teaching methods that can increase students' interest in attending government schools, particularly in rural areas where attendance is currently low."