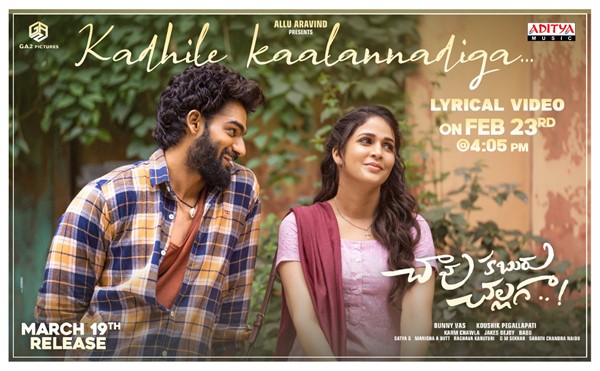 Chaavu Kaburu Challaga, starring Karthikeya and Lavanaya Tripathi is hitting the screens on 19th of March. The makers are frequently releasing promotional content and building buzz to the film ahead of its release.
In the latest poster released by the movie unit, Karthikeya and Lavanaya share alluring chemistry as the former tries to woo the latter with his comments. Lavanya is seen with a beautiful smile on her face as she tries turn away in shyness.
The poster of confirms that second song from the album 'Kadile Kaalannadiga' will be releasing at 4:05 PM on 23rd of February. Chaavu Kaburu Challaga is directed by Koushik Pegallapti and bankrolled by Bunny Vas under GA2 Pictures banner.
—
Thanks & Regards,
Eluru Sreenu
P.R.O