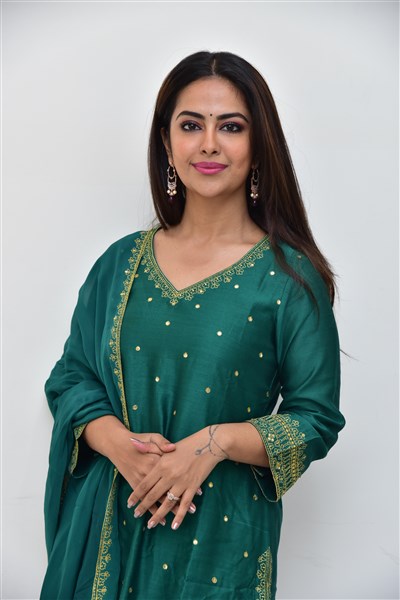 Avika Gor's up-and-coming theatrical release is 'Popcorn', starring herself and Sai Ronak as the lead pair. Directed by Murali Naga Srinivas Gandham and produced by Madhupalli Bhogendra Gupta of Acharya Creations, the film has Avika Gor debuting as a co-producer on the banner Avika Screen Creations. MS Chalapathi Raju and Seshu Babu Peddinti are its other co-producers. The romantic comedy entertainer is going to hit the screens on February 10.
In this interview, the versatile actress talks about the film, her character in it, what to expect from it, working with Sai Ronak, and more. She also takes stock of her career thus far.
Excerpts:
The concept of 'Popcorn' is different in that 90% of the film takes place inside a lift. That leaves just me and Sai Ronak as the only faces of the film. For us to give good content and also perform well was a challenge. I love taking up new challenges. All my characters have been very important for the script. This one was the most difficult. There is no supporting cast… Be it comedy or crying, it is only I and Ronak who had to do them.
If I were just an actor, I wouldn't have got to be involved in the promotions for 'Popcorn'. The script made me want to produce the film, thereby realizing my long-standing wish.
Sai Ronak is amazing, so talented, so humble. On set, I wanted somebody who was exciting to work with. He is also very enthusiastic about fresh ideas. Working with him on '#BRO' made me realize that he is a positive-minded soul. That's why I suggested that he be cast for the lead role.
For me to believe in a story that is about just two characters with three songs inside a lift was not easy, especially because I love OTT films. Everything happens in 'Popcorn' for a reason. I started believing in the script because it's a meaningful one.
The lift that you see in the film is not an actual lift but a set. Every day on the set was a surprise. The enjoyable process of doing the film started manifesting in my performance. The emotions are natural and the transition is smooth. I share a strong rapport with Sai Ronak. That's why choosing him was a sensible thing.
Director Murali had the creative liberty to narrate the story the way he wanted to. The conviction of the writer/director is what made my previous projects like 'Uyyala Jampala' and 'Balika Vadhu' (soap opera) so special.
I took the liberty to give suggestions to my director as to how I have to react to the situations in the film. So, I honed my expressions the way I wanted to.
My father's first reaction to my wish to become a producer was kind. I come with no Godfather. I am technically an outsider here in the film industry. When I dream high, it makes my parents happy. I was 21 when I wanted to become a producer. I started doing filmmaking courses. Production was a department I always wanted to explore.
Nagarjuna sir, Nikhil, Chay and others who know me are very proud of me. The people I have worked with treat me as their own. Producing a film is a courageous step. I have stepped out of my comfort zone. People expect a little more out of me because they have been seeing me since I was 7. They need something extra for me, and their expectations make me feel more responsible. I have to cater to their expectations.
People have asked me why 'Popcorn' was not released directly on OTT. The experience that you have in a theatre is unbeatable. It will always have the upper hand. Cinema is my thing. Even when I am busy shooting, I make sure I watch movies in theatres. 'Popcorn' is not the kind of film you should watch skipping now and then. You have to allow the drama to grow on you so that you appreciate the chemistry and drama.
My zero-budget short films have gone to Cannes. Those experiences made me believe that I can do good cinema on less budget. My films have mostly been made on less budget. It's considered a big victory if small-budget films become box-office hits. When I acted in 'Uyyala Jampala', I was already famous thanks to 'Balika Vadhu'. I have always chosen scripts that have the scope for performance.
Thanks to social media, the audience know everything about my life is transparent. They know how my parents look, how my boyfriend looks.
My career graph has proved that I have played important films. I choose strong characters, as films like 'Ekkadiki Pothavu Chinnavada' proved. Of course, I would want to do bigger films. But my whole attention is now on 'Popcorn'. I am doing a Hindi film, which is going to be released in theatres in May.
The script matters the most to me. I took a gap of 3-4 years after 'Ekkadiki Pothavu Chinnavada'. I took the gap because I wanted to groom myself and lose weight. I wanted to expand my horizons in terms of the kind of roles that I wanted to do. I learned new things. My journey as an artist started when I was too young. Comparing my journey with that of other actresses would not be fair because our paths have been so different. I have a lot of respect for those actors. That said, I have done characters that directors believed only I can do. People give me love and recognize me by my character Anandhi from 'Balika Vadhu' to this day. While I value awards and rewards, people regarding me as their family member in towns makes me grateful.
Not many know that the TV show 'Balika Vadhu' is an internationally recognized one. It got released in 28 countries. I have been to several countries, thanks to it. It became so big that it is a dream run. It happened when I had zero expectations as a child artist. People in Singapore told me they know me and my serial! It's a big surprise that all this happened. Recently, I was in Vietnam and when I asked them who all the Indian actors they know, they mentioned SRK, Salman Khan, Mithun Chakraborty and 'Balika Vadhu'. That's the kind of achievement. What else can I ask for? I was once nominated for an Indian of the Year award alongside Sachin Tendulkar, AR Rahman, Aamir Khan and Katrina Kaif. This doesn't happen to every actor every day. I can't imagine myself in that category for the next 10 years if I started at this age. Every day waking up to this is crazy. It's definitely not easy. It is a responsibility. 'Balika Vadhu' reached international film festivals. I have extreme love and gratitude!
In films like 'Thank You', I had beautiful characters. All my characters are close to my heart. The character in '#BRO' made me a nicer human being. Sameerana in 'Popcorn' made me more confident. An actor is also a human.
I am working on a couple of Telugu projects. The announcements will happen sure. I am getting launched in Bollywood. Mahesh Bhatt and Vikram Bhatt are launching me through the '1920' series. I hope my Telugu audience also enjoy my first Hindi film. I am excited about that. One of my next films as a producer is already shot. The other one is in pre-production.
Naidu Surendra Kumar (PRO)
Talk: 90000-13274
Like: facebook.com/Surendra1974
Follow: twitter.com/surendraknaidu