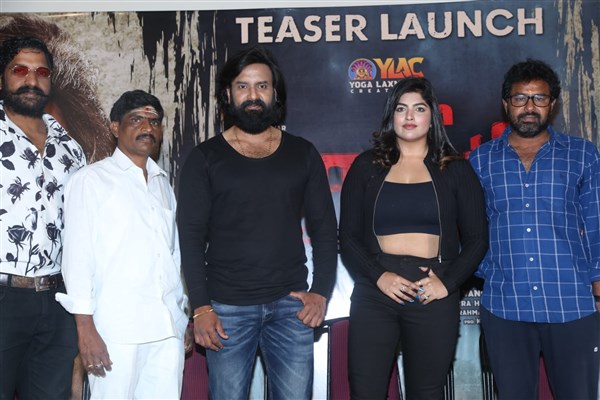 Kathanam fame Nadendla Rajesh has directed this movie whereas Naina saravar acted as heroine Proudly produced by Anilkumar katragadda,N.S.Rao and Vishnuvardhan under YogalaxmiartCreations.
On this occasion hero eswar is said "I am feeling happy about the teaser launch .My friends and media Persons are appreciating the teaser.After listening thier words of appreciation we feel that they had given more oxygen levels to our hardwork.Director Rajesh had believed my story and travelled two and half years journey with me.I personally thank my director and my team for the wonderful output.Based on some true incidents we developed it into a Suryapet Junction movie.After Watching the teaser how media is supported me the same i am expecting that they will promote the movie to reach the audinece.Heroine Naina Narwal has supported me a lot.My all the co actors also given their best including our technicians.I personally thank all the persons who attended the teaser launch event."
Heroine Naina Sarval said" I thank Rajesh sir for giving me this opportunity.I loved the teaser.After Watching i felt more confident that this movie going to be success.I request media to promote the teaser and movie.Thank you all".
Director Rajesh said"I felt happy when all praising the teaser.I thank Eeswar for giving me this opportunity.All other things I am going to speak in the trailer.Thank you all for coming".
Producer Nallapalli srinivas said" Movie output came very good.You can observe throught the released teaser.Our director ,hero,heroine and team has worked really hard.i am believing this movie going to be huge success".
Actor basha said"I thank Rajesh sir for giving me this opportunity.All of you support us."
All other Movie team has participated in the event.
Cast:
Eeswar,Naina sarvar, Abhimanyu Singh,lakshman,basha,soorya,Harish,chalaki chanti,Munna venu, chamak chandra,koteswararao
Technical Team
Banner: YogalaxmiartCreations
Title: SuryapetJunction
Producers: Aneel kumar katragadda, N.Srinivasarao, Vishnu Vardhan
Director: Nadendla Rajesh
Story: Eeswar
Music: Roshan saluri,gowra Hari
Dop: Arun Prasad
Editor:M.R.Varma
Co-director -srinivas
Lyrics:A.rahman
Poster designer:dhaniYele
Writers:Satya,Rajendra bhardwaj
P.R.O: Kadali Rambabu
Digital : Celebrity Media