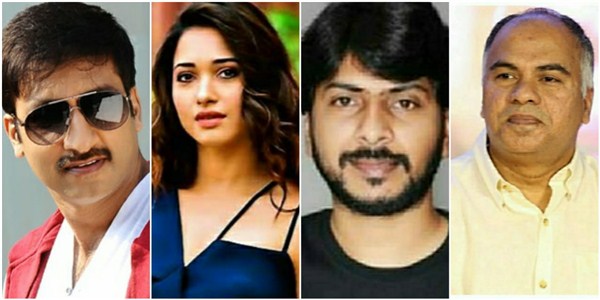 The Big Budgeted Film Directed By Sampath Nandi Produced By Srinivasaa Chitturi Macho Hero Gopichand's next in Mass Director Sampath Nandi's direction produced by Srinivasaa Chitturi under Srinivasaa Silver Screen banner as 'Production No 3' to have Tamannaah as a heroine. Tamannaah has acted as a heroine in Sampath Nandi's directorial, Blockbuster 'Bengal tiger' earlier.
Gopichand, Tamannaah starrer to have a big ensemble cast.
Presented by: Pavan Kumar
Producer: Srinivasaa Chitturi
Story, Dialogues, Screenplay, Direction: Sampath Nandi
గోపీచంద్ సరసన తమన్నా. సంపత్ నంది దర్శకత్వంలో శ్రీనివాసా చిట్టూరి భారీ చిత్రం మ్యాచో హీరో గోపీచంద్ హీరో గా మాస్ డైరెక్టర్ సంపత్ నంది దర్శకత్వంలో శ్రీనివాసా సిల్వర్ స్క్రీన్ "ప్రొడక్షన్ నెం.3" గా శ్రీనివాసా చిట్టూరి నిర్మించనున్న భారీ చిత్రంలో తమన్నా హీరోయిన్ గా ఎంపికయింది. తమన్నా గతంలో సంపత్ నంది దర్శకత్వం వహించిన బ్లాక్ బస్టర్ 'బెంగాల్ టైగర్' లో హీరోయిన్ గా నటించిన విషయం తెలిసిందే.
గోపీచంద్, తమన్నా జంటగా నటిస్తున్న ఈ చిత్రంలో భారీ తారాగణం నటిస్తోంది.
ఈ చిత్రానికి…
సమర్పణ: పవన్ కుమార్
నిర్మాత: శ్రీనివాసా చిట్టూరి
కథ, మాటలు, స్క్రీన్ ప్లే, దర్శకత్వం: సంపత్ నంది