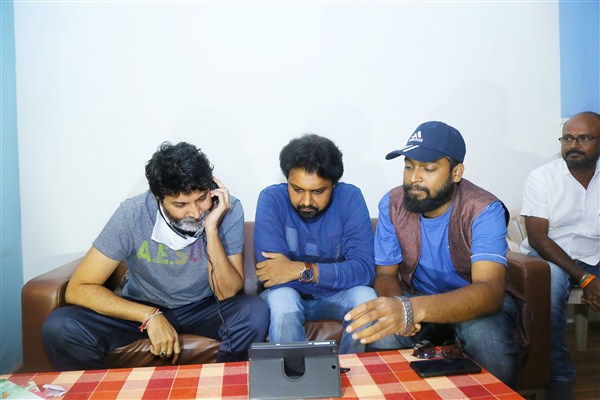 Adiroh Creative Science LLP's maiden production Mis Match is gearing up for release soon. Aata Gadara Siva fame Uday Shankar is playing the male lead role Aishwarya Rajesh is pairing up with him. NV Nirmal Kumar is directing this much-awaited flick. Star director, Trivikram released the first song of the film titled 'Arere Arere'.
Trivikram said that the title Mis Match is fresh and intriguing. Nirmal Kumar's previous flick 'Saleem' had a good run at the box offices in the Telugu states and Tamil Nadu. I hope this film will become a wholesome family entertainer. The first song from the film is a melodious one and it has a ring to it, he said.
Hero, Uday Shankar said he is delighted that his favorite director Trivikram Srinivas is releasing the first audio single of his film. Trivikram garu supported my first film as well. I thank him for this. This film was made with passion and dedication, he said.
The producer, Sriram stated he is really happy that a renowned filmmaker like Trivikram is releasing the first song from his flick . He added that the film came out really well and both the lead actors, Uday and Aishwarya came up with really good performances.
The music director Gifton Elias opined that the entire album has shaped up really well. MM Manasvi crooned this song while Sresht wrote the lyrics.
The director, Nirmal Kumar said that 'Arere Arere' is a beautiful composition and the melodious track will connect well with everyone. The song will now have a much wider reach as Trivikram garu has released it, he added.
Adhiroh creative signs LLP
'MISS MATCH
Cast:
Uday Shankar,Aishwarya Rajesh,Pradeep rawath, Sanjay Swaroop,Master Adhiroh,Naga Mahesh,Ravulapati venkata ramarao.,Malakpet shailaja,Badhram,Roopa Laxmi,Sandhya Janak,Sharanya,Padma Jayanthi,Laxman,Munna.
Technicians:
Ganesh chandrra(DOP),Story, screen play: Bhupathi Raja,Music: Gifton Elias,Dialogues: Rajendra Kumar, Madhu,Lyricists: Sirivennela Seetharam Shastri ,Suddhaala Ashok Teja, Dharma Teja,Editor: SP Raja Sethupathi,Dance master: shiva shankar, Fight master: Vijay
Director: NV. Nirmal Kumar
Producers: G srirama raju, Bharath ram