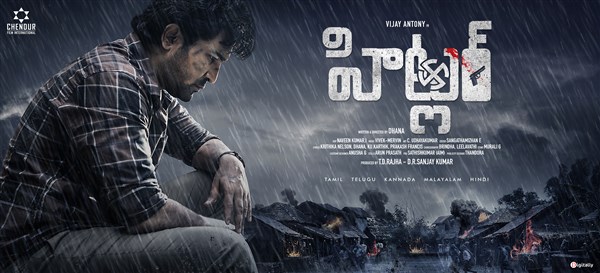 Chendur Film International that has successfully produced six movies, is happy to announce its 'Production No.7' titled 'HITLER' starring Vijay Antony in the lead role and directed by Dhana. The film is presented by Chendur Film International T.D. Rajha, who is producing this film along with D.R. Sanjay Kumar. It is noteworthy that the same production house had already produced a super hit movie with Vijay Antony titled 'Kodiyil Oruvan'.
Both the radically distinctive motion poster and Vijay Antony's fresh and new look have enthralled the fans, thereby making 'Hitler', one of their favorite watchlist movies. Riya Suman is playing the female lead role in this movie.
Hitler, is an action-thriller, laced with commercial elements and director Dhana has crafted the screenplay with lots of surprising twists and turns laced with beautiful romance. It will be a film that will savor the tastes of universal audiences.
'Democracy in our country is quite tricky. Precisely, it's Dictatorship in the name of Democracy. The ruling parties may change every five years, but democracy remains unborn. An ordinary man's revolt and battle to bring an end to the dictatorship forms the crux of 'Hitler'. The makers state that 'Hitler might be a person's name, but it has become a synonym of Dictatorship today. Hence, they decided to feature it as the title.