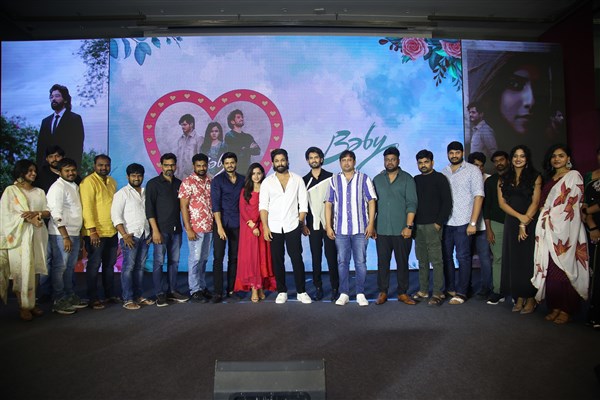 The small-budget film 'Baby' has taken the box office by storm, surpassing all expectations and raking in impressive collections. It collected 49.2 crores gross in just 7 days. Baby is directed by Sai Rajesh and produced by SKN under Mass Movie Makers. The film also stars Vaishnavi Chaitanya and Viraj Ashwin in the lead roles.
Icon star Allu Arjun was the chief guest at baby movie cult blockbuster appreciation meet and he congratulated the film team. The film team expressed their gratitude and happiness for Allu Arjun coming to this event. He was all praises on director Sai Rajesh, SKN, Anand, Vaishnavi l, Viraj Ashwin, Vijai Bulganin and the whole team of Baby.
He said "There's only few films which shows the pain in love. While I was growing up it was Kaadhal Kondein, 7/G Brundavan Colony, recently Arjun Reddy and now it's Baby. Sai Rajesh garu you've made cinema. For me, Sukumar and Maruthi, this is our kind of Cinema. I've listened his journey yesterday for 1 hour and Iam today here to talk about Baby team Journey. The way the movie was written, the way it was made, the performances of the artists, everything was impressive. I was shocked by their performance. There is a lot of genuineness in their acting."
The actor appreciated producer SKN journey. He said "You make memes when SKN throws the mike while talking. But I think it's okay because I know how much he struggled. He was in a small room, even smaller than Watchman's, and now he made a cult blockbuster. Iam proud of your journey, SKN."
Allu Arjun was particularly impressed with the interval block of the film and expressed his excitement while watching it in his home theatre. He specially complimented music director Vijay and assured him of more opportunities in the future. Allu Arjun praised Anand Deverakonda and compared him to his brother Sirish while also appreciating Viraj Ashwin's performance.
He added "What I love about our Telugu audience is they are encouraging the only people who are putting some genuine efforts to make the cinema. They are recognising, I don't know how but they are. The actor used this stage to make a sincere request. He said "When I attend award ceremonies, I see a lot of female actors receiving awards from Malayalam, Tamil, and Kannada. I request Telugu people to encourage their talented daughters. The entertainment industry is a growing industry, and Telugu cinema is the best of its times."
During the end, he delighted the crowd by leaking a dialogue from his upcoming film, 'Pushpa 2: The Rule.' "Eedantha jarigedi okate rule meeda jarugutaanadadi, 'Pushpa gadi Rule.' This revelation sent the audience into a frenzy.