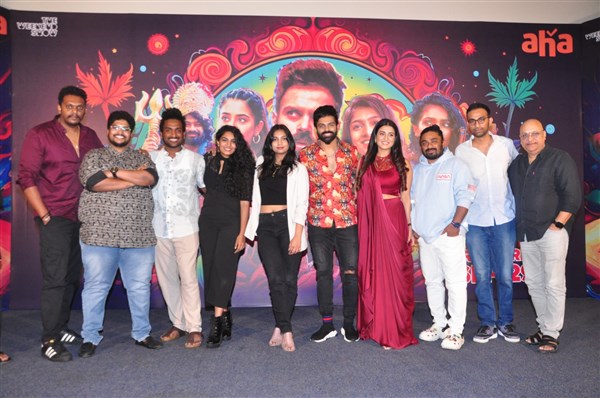 Hyderabad, September 23rd – aha is set to tickle your funny bone with its upcoming original web series, "Papam Pasivaadu," produced by The Weekend Show. The trailer of this uproarious rom-com was recently launched, and it promises an unforgettable, laughter-filled journey. The 5- episodic series is all set to launch on September 29th.
"Papam Pasivaadu" boasts a stellar cast, including the versatile Singer Sreerama Chandra and the talented Gayatri Chaganti, Raashi Singh, and Srividya Maharshi. The story revolves around a 25-year-old protagonist, Kranthi, grappling with heartbreak and a desperate quest for love. However, his life takes a hilariously chaotic turn when not one, not two, but three different women become enamoured with this perplexed character.
Director Sandeep Raj added, "I'm thrilled to have been a part of the trailer launch for 'Papam Pasivaadu.' This series is a rib-tickling rollercoaster of love and laughter, and I'm confident the audience will have an amazing time watching it. My best wishes to the entire team for delivering such a hilarious and entertaining show."
Sreerama Chandra, the versatile playback singer turned actor, expressed his excitement, says, "It's my third association with aha. I debuted as an anchor and now as an actor through this platform. Papam Pasivaadu is a rib-tickling journey of love and laughter. It's been an incredible experience working with the talented cast and crew, and I'm sure the audience will thoroughly enjoy this hilarious romp on September 29th."
Don't miss the premiere of "Papam Pasivaadu" on September 29th, 2023, exclusively on aha. As this endearing tale of love unfolds, prepare to embark on a rollercoaster of emotions and laughter.