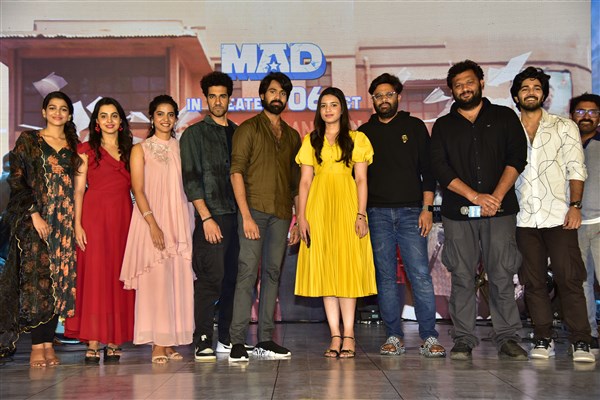 Starring actors Narne Nithin, Sangeeth Shobhan, Ram Nithin, Sri Gouri Priya Reddy, Ananathika Sanilkumar, Gopikaa Udyan, comedy entertainer Mad is hitting screens worldwide on October 6. Directed by Kalyan Shankar, the film is produced jointly by Haarika Suryadevara & Sai Soujanya under Sithara Entertainments and Fortune Four Cinemas.
Ahead of the release on October 6, the film unit interacted with the media on Tuesday here in Hyderabad.
Describing the madness and comedy in the film, producer Naga Vamsi announced that he would return the ticket money back to audiences if they feel Mad is less entertaining than KV Anudeep directorial Jathi Ratnalu. "If I see any message on Twitter from the audience stating that they experienced less laughter than Jathi Ratnalu, I would return their money back," said the producer.
KV Anudeep, who played a character in Mad, said, "I have known director Kalyan for the last 10 years. He is one of the closest friends I have. In the past, we happened to agree upon a deal that we should mutually act in each other's movie whenever we get a chance. Fortunately, I realized my dream of acting in my friend's movie. Kalyan writes stories with a lot of humour and energy. I wish all the very best to everyone who worked for the project. I also thank Naga Vamsi garu for extending support and producing this small-budget film. Mad is more entertaining than Jathi Ratnalu. Mad would make you laugh throughout the runtime."
Actor Narne Nithin, who is playing one of the leads in Mad, said the film is an enjoyable college drama that can pull any section of audiences. "I strongly believe that this film can entertain audiences for sure when it arrives in theatres on October 6," he added.
Actress Ananthika said, "It's always a great part of this film. And I think we are all going to celebrate on October 6 when the film finally hits theatres. I thank Naga Vamsi sir, Kalyan sir, and every co-star and technician I worked with."
Ram Nithin said," I first thank Naga Vamsi garu, Haarika garu, and S. Radha Krishna garu for providing such a great offer. I thank director Kalyan Shankar for keeping faith in me and the way he designed my character."
Gopikaa Udyan said," Feels so great to be a part of the project. I thank the makers for casting me in the movie. I am so excited for October 6. It's going to be very great in theatres.
Sangeeth Shoban said, "Thanks Mad Suma for introducing us. Just by looking at the glimpses and the teaser, you could sense the madness in it. The reason behind the madness is our director Kalyan Shankar. All these quirky-mad ideas came from Kallyan's mad mind. Hopefully, you all get connected to us on October 6 and go mad.
Sri Gouri Priya Reddy said, "The film Mad is going to be 10 times more entertaining than the response of what the teaser got."
Actor Vishnu said I thank our director Kalyan for choosing me for the character that requires only two days of shoot but he shot it for 40 days (laughs). Thank you! I thank Haarika, producers of Mad, and co-stars for their support."
Kalyan Shankar said, "Initially, our task was to choose the right set of artistes who were as mad as us. After picking actor Shobhan, Ram's Hello World movie got released on the other day and immediately Naga Vamsi garu spotted him and took him onboard. So we finally wanted a hero to move the story forward. I showed a small video of Narne Nithin and our producer immediately approved him."
When asked about what advice does Jr NTR gave to Naga Vamsi while handling his brother-in-law Narne Nithin? Vamsi replied, "When we were searching for a hero, we happened to come across Nithin's small video. We immediately okayed him as he fits our requirements. After getting selected, Nithin informed Jr NTR about it. NTR told me to handle the project carefully as it is a debut for Nithin."
Narne Nithin said his brother-in-law hasn't advised him anything about his foray into films. "He only keeps saying that whether it is a success or a failure it is in our hands. That's how I selected the project 'Mad' as my film debut. The story of Mad is what piqued my interest initially. I haven't thought about making a film debut as a solo hero. I have many in the pipeline. Luckily, Mad is coming before audiences as my debut. I am happy about it."
Sangeeth Shobhan said the makers of the film Mad haven't picked the film because of introducing three heroes. They strongly believed that Mad has a good potential to be told on the big screen. That's why we all are here with a good film."
Cinematographer Shamdat said, "After the mystery thriller, I've gotten the opportunity to work with some mad people. When our 'Mad' director Kalyan narrated the story to me. I kept laughing and involuntarily started crying. Then I told him that the film was going to be a blockbuster. This is a crazy film and audiences will enjoy it."
Bheems Ceciroleo has composed the music in the film. Other actors include Raghu Babu, Racha Ravi, Muralidhar Goud, Vishnu, Anthony and Srikanth Reddy.
Sent from my iPhone
L.VENUGOPAL
journalist, P.R.O
+91 9949912346