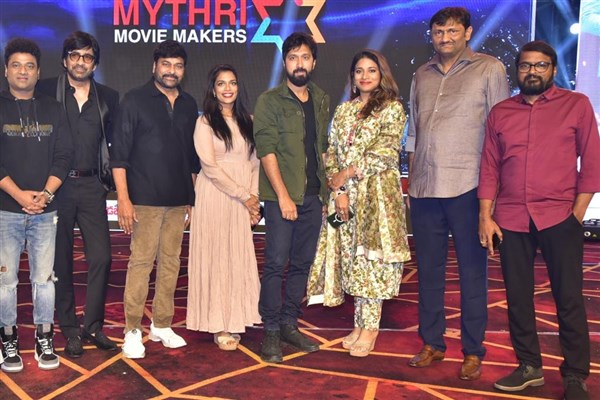 Chiranjeevi, Ravi Teja, Director Bobby Kolli, and Mythri Movie Makers Waltair Veerayya is a red-hot in the trade after the sensational response to the trailer and the songs. The Mega Mass event of the movie happened in Vizag with a massive crowd in attendance. Waltair Veerayya is releasing on January 13th as Sankranthi Special.
Speaking at the event, Chiranjeevi said, "I was impressed with the story in the first hearing itself and immediately said Okay giving a handshake. I did not give Bobby a chance because he is my fan. He impressed me thoroughly with the story. He excelled as a storyteller, writer, screenplay writer, and director. He lived up to my expectations. I became a fan of Bobby and I am proud of him. Mythri Movie makers are legendary producers on par with Rama Naidu, Allu Aravind, Aswini Dutt, and KS Ramarao. They produced the film uncompromisingly and are releasing two films same time without fear and trusting content. I wish both films will be successful".
He also spoke very confidently about the film. "I recently purchased land in Vizag. I wish to settle here someday. I will build a vacation home here. Coming to Waltair Veerayya, in the first twenty minutes of the movie, there are episodes of Hollywood level. Ravi Teja and my episodes will be spellbinding. The movie goes next level with his entry. Waltair Veerayya has a high moment every ten minutes. Every scene is unique. There are thrills. Everyone will be seen with a wow sitting on the edge of their seat. We worked with one goal to make the movie a super duper hit. Poonakalu Loading on 13th. Don't stop seeing. Go on seeing. Love you all," he added.
Ravi Teja also sounded extremely confident about the film. "I am saying not All The Best but Congrats to the actors and technicians of this film because the movie will sure shot a blockbuster. Poonakalu Loading. Started as a fanboy, I told my friends I will work with Annayya one day. From playing his brother in Annayya movie to sharing the screen with him in Waltair Veerayya, every moment with Chiranjeevi is very proud. He loves me very much. Bobby was introduced during Balupu and later made 'Power' with me. I firmly believe that he will go to the next level with Veerayya. Devi gave blockbuster music. Waltair Veerayaa is going to be a super-duper blockbuster. See you again in the success meet," he said.
Director Bobby Kolli spoke elaborately thanking Chiranjeevi and everyone involved in the film. "I am one of the Lakhs of people who attended the Indra function. I promised to do a film with Chiranjeevi with my father back then. Here I am. I showed love for the Megastar in this film. Chiranjeevi and Ravi Teja are self-made stars. I think I did justice to them. The rampage begins 10 minutes before the interval. Poonakalu Loading is our interval card. Sankranthi begins with Waltair Veerayya. You will see how many days the festival will be," he confidently told.
Producer Naveen Yerneni is all smiles at the event. "It's a dream to make a film with Chiranjeevi. Thanks to Chiranjeevi garu for making that dream come true. Thanks to the director. Only Ravi Teja can do that role in the entire country. Devi gave us a chartbuster album and an excellent RR. Waltair Veerayya is releasing on the 13th Worldwide. It is going to be a blockbuster. Watch the film in theaters," he told.