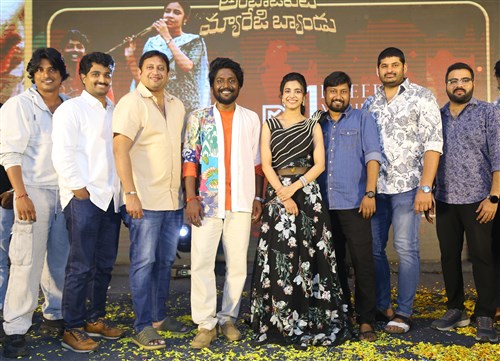 Suhas, the promising young actor of Telugu cinema, has been making waves with his performances in films like 'Colour Photo' and 'Writer Padmabhushan'. He is now ready to entertain the audience with his upcoming film "Ambajipeta Marriage Band." The film produced jointly by GA2 Pictures and director Venkatesh Maha's Mahayana motion pictures, the film is coming also under the banner of Dheeraj Mogilineni Entertainment.
The film is directed by newcomer Dushyanth Katikineni, and its teaser was released recently, creating quite a buzz among movie lovers. "Ambajipeta Marriage Bandu" is a comedy-drama film that will hit the theaters in January. The first single 'Gumma' song from this movie was released at an event held in Hyderabad on Monday. On this occasion,
Music director Shekhar Chandra said – Gumma song gave me immense satisfaction. We are working happily for this film. We made the song according to the ideas of director Dushyant. A fresh subject will be seen in this movie. There will be a genuine love story. The movie is impressive with intense drama.
Actor Jagadeesh Prathap Bhandari said – The director gave me a good character in the movie "Ambajipeta Marriage Band". We worked as a team for this film. Every character is good in this movie.
Actor Nithin said- Jagadish became a good friend during this movie. We used to discuss how to do the scenes. Suhas supported us a lot. "Ambajipet Marriage Band" gives a new experience to the audience.
Choreographer Moien said – Director Dushyant gave me a lot of freedom to do the Gumma song. It was only because of Suhas that I was able to give steps with so many variations. They supported a lot during the song time. My best wishes to all those who worked on this film.
Director Dushyant Katikineni said – Gumma song will be loved by everyone. Rahman has given good lyrics for this song. Composed by Shekhar Chandra with a catchy tune. Not only the Gumma song but the whole album of this movie is good. Thanks to Bunny Vasu, Dheeraj and Venkatesh Maha for their support in making this movie. This movie has nothing to do with Color Photo movie. After watching this movie, you will enter the world of "Ambajipeta Marriage Band". I have written this story based on some incidents I have seen in real life.
Hero Suhas said – "Ambajipeta Marriage Band" movie will definitely be new. This is a fresh subject. The audience will come out of this movie theater with a good feeling. This is a movie that gave me satisfaction as an actor. I hope that along with the good story, my performance will also impress audience. Our whole team worked hard believing in the subject. My desire is to get a better name as an actor than as a hero. I got SIIMA for the character in Hit 2. Not only as a hero, but if I get good characters, I will definitely act. I want to get a reputation for being able to play all kinds of characters. In between, I got characters in some big movies, but I couldn't act in those movies because there were movies where I accepted as a hero.
Producer Dheeraj Mogilineni said – "Ambajipeta Marriage Band" is another good movie coming from our banner. We are very happy with the output of the film. We want to release the movie at the end of January. Sankranthi movies will be released by then. It is believed that if the film is good, the audience will always support it. We are releasing it in January with that belief. If we thought it would be November first, then elections came, we thought it would release in December, but you have seen how the release dates of all the films have changed after the announcement of the release date of Salaar. January is a good time for us. Allu Aravind has seen our movie and appreciated.
Producer SKN said – We watch good movies whenever they come. Movie lovers don't just want to watch big movies. Along with them, they also watch small films with a good concept. "Ambajipeta Marriage Band" is such a good content movie. I want this movie coming in January to be a big success.
Heroine Shivani Nagaram said – I think this is a perfect movie for my entry as a heroine. I got a good role with scope for performance. Happy to work with a costar like Suhas. "Ambajipet Marriage Band" gave me a good experience.
Actors – Suhas, Shivani Nagaram, Sharanya Pradeep, Jagadeesh Prathap Bhandari, Goparaju Ramana etc.
Technical Team –
Music by – Shekhar Chandra
Cinematography – Wajid Baig,
Editing – Kodati Pawan Kalyan
PRO – GSK Media, Eluru Sreenu
Banners – GA2 Pictures, Mahayana Motion Pictures, Dheeraj Mogilineni Entertainment
Written and Directed by – Dushyant Katikineni