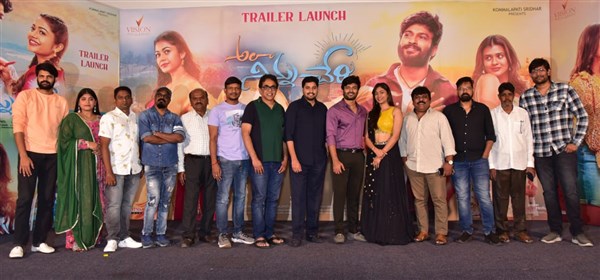 Films with a good story are loved by the audience. Whether it is a small film or a big film, the audience are encouraging content-rich movies by making them commercial hits. There indeed is a lot of craze for youthful love entertainers. Under these circumstances, the feel-good romantic entertainer Ala Ninnu Cheri starring Dinesh Tej of Husharu fame is gearing up for its theatrical release. Hebah Patel and Payal Radhakrishna are the heroines in the movie directed by Maresh Shivan and produced by Kommalapati Sai Sudhakar under the banner of Viision Movie Makers. Kommalapati Sridhar is presenting the movie. Today, the makers released theatrical trailer of the movie. The trailer launch was a grand affair with Bekkam Venugopal, Trinadha Rao Nakkina, and a few others gracing the event as guests.
The trailer begins with the hero introduction scene where he utters, 'Ee Bhoomi Meeda Puttina Prathi Manishiki Edigenduku Oka Kala Untundi… Naku Oka Kala Undi.' There is an emotional dialogue mouthed by heroine who says, "Dooramgaa Untunnavo… Dooram Avuthunnavo… Dooram Chesthunnavo… Emi Ardham Kavadam Ledu…"
"Avasaram Leni Chota Yuddhalu Cheyanu… Avasaram Unnachota Kurukshetra Yuddhaniki Kuda Venukadanu," is another powerful dialogue. The trailer ends with another thought-provoking dialogue by heroine. "Nee Ashayam Goppadaithe Nuv Chese Prayathnam Anthakanna Goppagaa Undaali…" says she.
Dinesh Tej appeared in a character with two shades. While he looked young in the village set-up, we can see maturity in his character in the urban set-up. He has come up with a brilliant performance. Hebah Patel oozed oomph, while Payal Radhakrishna played her part efficiently.
Maresh Shivan has also penned the story, screenplay, and dialogues for the movie. The visuals captured by cinematographer I Andrew are top-notch, while Subhash Anand's background score gave life to the visuals. Karnati Rambabu is the ex-producer and Kotagiri Venkateshwara Rao is the editor. Shivakumar Ramachandravarapu and 'Rangasthalam' Mahesh are the other prominent cast. The movie was made in an uncompromised manner and the grandness can be witnessed in every frame. The trailer gives the impression that Ala Ninnu Cheri is a wholesome entertainer which can be watched with all the family members.
The previously released promotional material, especially songs received a tremendous response. Now, the trailer has taken the expectations to another level.
The makers will announce the film's release date soon.
Cast: Dinesh Tej, Hebah Patel, Payal Radhakrishna, Shivakumar Ramachandravarapu, 'Rangasthalam' Mahesh and others.
Technical Crew:
Story, Screenplay, Dialogues, Direction: Maresh Shivan
Producer: Kommalapati Sai Sudhakar
Banner: Viision Movie Makers
Presenter: Kommalapati Sridhar
Ex-Producer: Karnati Rambabu
DOP: I Andrew
Music: Subhash Anand
Editor: Kotagiti Venkateshwara Rao
Art: Vithal
Lyrics: Chandrabose
Fights: King Solomon, Ramakrishna (RK)
Choreography: Bhanu
Costume Designer: Madasar Mohammed
Publicity Designer: Dhani Aelay
PRO: Sai Satish, Rambabu