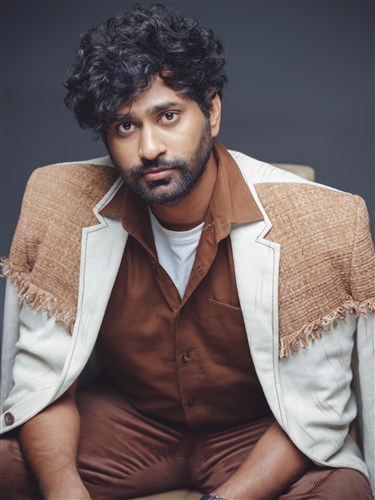 Thiruveer… a happening actor in Telugu Cinema by donning different roles earning a versatile actor image. Along with movies, he is also making his mark in OTT too. Top OTT streaming platform ZEE5 is currently making 'Mission Tashafi' in a prestigious manner. Thiruveer is on board for a key role in this series. ZEE5 has officially announced his addition to 'Mission Tashafi'. Director Praveen Sattaru who is popular for delivering engaging and thrilling films with high-octane action sequences is directing this web series. Pranathi Reddy is bank-rolling 'Mission Tashafi'.
The regular shoot as per plan is going at a brisk pace. Now, makers are delighted with versatile actor Thiruveer joining the team. Makers are confident that Thiruveer with his unique acting abilities will deliver more than what is expected from him. Thiruveer is also excited to work with director like Praveen Sattaru.
'Mission Tashafi' is an intense and emotional action spy thriller that runs between a foreign terrorist organization planning a massive attack on India and Indian RAW agents.
'Mission Tashafi' – The 8-episode web series is being produced by Pranathi Reddy under Film Republic Banner. ZEE5 is making this highly intense action thriller web series with the highest budget and rich technical values in Telugu OTT history. Praveen Sattaru is filming 'Mission Tashafi' as the first-ever spy thriller series in Telugu OTT with high-octane action performances that are going to be filmed in exotic locations by renowned action choreographers.
About ZEE5:
ZEE5 has been relentlessly dishing out a wide variety of content in various formats in Telugu, Tamil, Kannada, Malayalam, Hindi, Marathi, Gujarati, Bengali and other languages. ZEE5 has made a name for itself nationwide as a prominent streaming platform since its inception. After presenting the comedy-drama 'Oka Chinna Family Story' from Pink Elephant Pictures, 'Loser 2' from Annapurna Studios stable, 'Gaalivaana' from BBC Studios and NorthStar Entertainment, 'Recce', 'Hello World', 'Maa Neella Tank', 'Aha Naa Pellanta', 'ATM', 'Puli-Meka' and 'Vyavastha' this year, the streaming giant is looking forward to offering many more Originals. ZEE 5 recent original film Sirf Ek Bandhaa Kaafi Hai starring Manoj Bajpai is gathering superb response.
Cast:
Thiruveer, Simran Choudhary, Srikanth Iyengar, Anish Kuruvilla, Chatrapathi Sekhar, Bhushan Kalyan and Others
Crew:
Banner: Film Republic, Producer: Pranathi Reddy, Story – Screenplay & Direction: Praveen Sattaru, DOP: Naresh Ramadurai, Art: Sai Suresh, Editor: Dharmendra Kakarala, PRO: Phani – Naidu (Beyond Media), Film Republic Digital: Ticket Factory