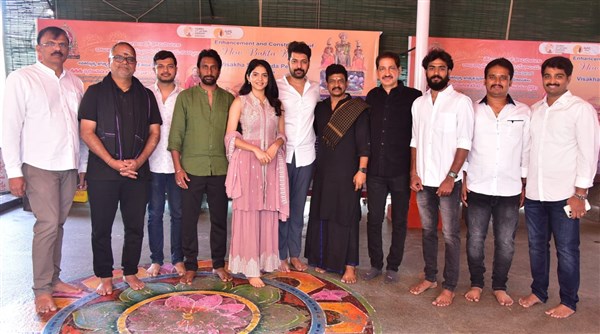 Young hero Karthik Raju is currently busy with a series of projects. While Atharva is ready for release, he has started another film. Despite being busy with the promotions of Atharva, he is also lining up new projects. Karthik Raju is doing a new film 'Hasthina Puram' produced by Kasu Ramesh under the banner Kasu Creations. This film is directed by Raja Gandrothu. This movie has been launched grandly with a pooja ceremony.
The movie was launched at Film Nagar Daiva Sannidhanam. Bhimaneni Srinivasa Rao sounded the clapboard for the first shot. Popular producer Vamsi Nandipati switched on the camera. Well-known director VN Aditya handed over the script.
Producer Kasu Ramesh said, "I used to be Karthik Raju's make-up man and manager. He made me a producer. Our director Raja worked as an assistant at star director VV Vinayak. We are making the movie because the story has the potential. Please do encourage our film."
Director Bhimaneni Srinivas said, "Karthik Raju and Nisha are the hero and heroines respectively. Raja is going to be introduced as a director. Karthik Raju got a good name with our Kausalya Krishnamurthy. Atharva is also going to be a very good movie. I already watched it and want this film to be a big hit as well."
VN Aditya said, "I made a love story with Karthik Raju after seeing Kausalya Krishnamurthy. It is coming for next Valentine's Day. Karthik Raju's image is going to be changed with Atharva. I want this movie to be a big hit too."
Hero Karthik Raju said, "Hasthina Puram is coming up with a new concept. It is not a regular film. Our director has written the story brilliantly. Our music director Anudeep is already in trending with Hanuman's song. I hope everyone will encourage our film.
Raja Gandrothu said, "There is so much positivity when you hear the title Hasthina Puram. There will be similar positivity in the movie. I worked under my mentor VV Vinayak garu. We are coming up with a good story and a good team. I am confident that you will support all of us. I sincerely thank our Raju garu, hero Karthik garu, and producer Ramesh who called me and gave me this opportunity with belief in me."
Music Director Anudeep said, "Raja Garu is coming up with a good story. This is my second film with Karthik Raju. It is a pleasure to work on this film. Thanks to the director and producers for giving me this chance."
Heroine Nisha said, "I am happy to be doing a film again in Telugu. Happy to be part of such a different movie. Thanks to the director and producers for giving me the chance."