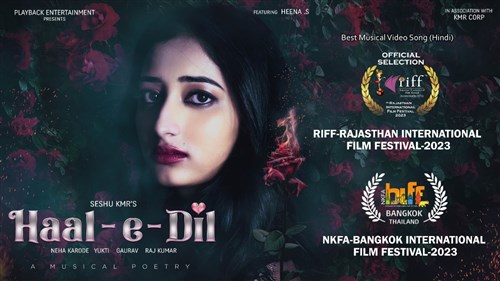 It's an undeniable fact that music is the one force that helps us reflect on, understand, cope with, celebrate and mourn the complexities of life. Love can be expressed in several ways.
From romantic dinner dates to going on a vacation together, there's no right or wrong way to express affection to your significant other. But true love can also arrive in the form of soothing lyrics and beautiful singing.
One such beautiful love song is Haal E Dil, the embodiment of modern love with a self-explanatory message about breaking from a relationship featuring the multi-layered actress Heena S. The song blends perfect music video with emotional lyrics.
Directed by the award-winning filmmaker and multiple world records holder in music and recording arts Seshu KMR, Haal E Dil is about the end of her relationship. It is a moving track that again shows Yukti's lyrical prowess when creating romantic songs. Beautifully sung by Neha Karode, the track is just flawless.
Apart from being a Film maker, Sound Designer and music composer of repute, Seshu KMR, a protégé of the legendary filmmaker Ram Gopal Varma is heading the renowned film production house AVA Entertainment as its Chief Operating Officer.
Besides trending for the last few days, this track is also nominated for the prestigious Bangkok International film festival and Rajasthan Film Festivals this year.
Seshu KMR's previous song Kala was one of the most loved songs to have graced independent music and won lavish praises at the 'Best Regional Music Video' award by the Rajasthan International Festival. The song was also nominated for 3 International film festivals.
Seshu KMR who is in amplified jubilation after the astounding success of his latest musical video Haal E Dil is all set to surprise the audience with his next a supernatural thriller feature film that's still under Pre-production.