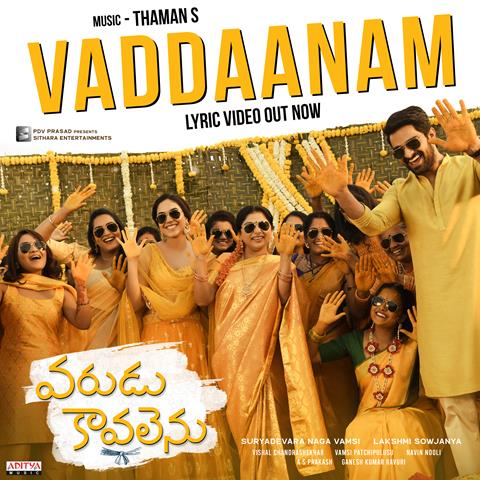 Sithara Entertainments, a well-known film production company, is making a film 'Varudu Kavalenu' with young hero 'Naga Shourya' and heroine 'Ritu Varma' introducing 'Lakshmi Soujanya' as the director. The 'Varudu Kaavalenu' unit released a sensational lyrical song from the movie today (2-10-2021). This lyrical video song, when viewed, acts as a feast for the eyes. Going into further details..
The song that goes "Vaddanam chuttesi vacchaare bhamalu.. Vayyaram chindese andala bhamalu..", are the lyrics that are penned down by Raghuram. The song was sung by singers Srikrishna, Geeta Madhuri, ML Gayatri, Aditi Bhavraju and Shruti Ranjani. The music for this song was composed by Vishal Chandrashekhar. This wedding ceremony song which is placed within the bounds of the story will include other main cast of the film alongside the hero-heroine, Naga Shaurya and Ritu Varma.
The song has beautiful music and good lyrics. In addition to these, Brinda masters dance choreography is even more uplifting. Post-production of the film is currently underway. The film will be released on October 15 as a gift on the occasion of Dussehra.
Naga Shourya and Ritu Varma as a leading pair, Nadiya, Murali Sharma, Vennela Kishore, Praveen, Ananth, Kiriti Damaraju, Rangasthalam Mahesh, Arjun Kalyan, Vaishnavi Chaitanya, Siddiksha are the main leads.
For this movie
Dialogues: Ganesh Kumar Ravuri,
Cinematographer: Vamsi Patchipulusu,
Music : Vishal Chandrashekhar
Editor: Navin Nooli
Art: A.S Prakash
PRO: Lakshmivenugopal
Presents by: P.D.V Prasad
Produced by: Surya Devara NagaVamsi
Story- Direction:Lakshmi Sowjanya
L.VENUGOPAL
journalist, P.R.O
+91 9949912346