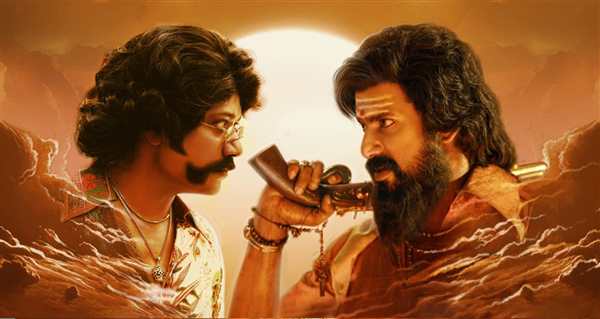 Versatile star Vishal is awaiting the release of much-awaited sci-fi gangster drama Mark Antony which is set for release on the 15th of this month for Vinayaka Chaturthi. The film co-starring SJ Suryah with Adhik Ravichandran helming it is carrying strong buzz, given the teaser and songs received a thumping response. This high-voltage gangster sci-fi thriller is produced by S Vinod Kumar.
Today, the film's theatrical trailer has been unveiled. Handsome hunk Rana Daggubati did the honours of launching the video. The trailer begins with a voiceover that welcomes us into the world of Mark Antony. Vishal and his friend played by SJ Suryah are gangsters with different mindsets. While SJ Suryah is very disciplined, particularly in terms of women, Vishal (Antony) is a playboy who has multiple affairs. On the other hand, in a different timeline, Mark (Vishal) is willing to go back in time and meet his father. He finds a phone through which one can speak with people from the past. The twist in the tale is Mark announces to kill his father, Antony.
Hero Vishal appeared in numerous get-ups and he killed it in dual roles. We can see lots of variation between the two characters. He is the hero and also a villain. SJ Suryah is funny yet cool as a partner in the crime of Antony. Ritu Varma played Mark's love interest, wherein Sunil appeared in a role with negative shades. Silk Smitha's character is created with the help of CGI and her fans will be truly delighted with the gesture.
Adhik Ravichandran who opted to an intriguing set-up has made Mark Antony a multi-genre movie including all the elements. It has a gangster set-up, thrills, sci-fi elements, fun, drama, action, etc. Dialogues are impactful.
The very talented GV Prakash Kumar scored the music and the background score has given sufficient elevations. Abhinandan Ramanujam's cinematography deserves a special mention. India's top stunt director Peter Hein master choreographed the action sequences, alongside Dhilip Subbarayan, Kanal Kannan, and Dinesh Subbarayan and all the stunt sequences in the trailer are intense. Vijay Velukutty is the editor of the movie.
The trailer has set the bar high for the movie.
Cast: Vishal, SJ Suryah, Ritu Varma, Sunil, and Selva Raghavan
Technical Crew:
Writer, director: Adhik Ravichandran
Producer: S Vinod Kumar
DOP: Abhinandan Ramanujam
Music: GV Prakash Kumar
Fights: Peter Hein, Dhilip Subbarayan, Kanal Kannan, and Dinesh Subbarayan
Editor: Vijay Velukutty
PRO: Sai Satish, Rambabu