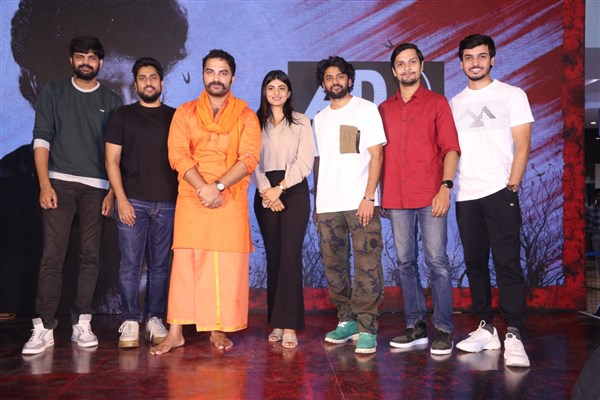 The upcoming film Vidhi starring Rohit Nanda and Anandi in lead roles is making headlines. Ranjith S producing the film Vidhi under No Idea Entertainment. This movie written and directed by Srikanth Ranganathan and Srinath Ranganathan. Sri Charan Pakala is providing music for this movie. Srinath Ranganathan worked as cinematographer.
Vidhi releasing worldwideon November 3rd and today makers unveilds the film's teaser in a grand launch event. Mass Ka Das Vishwak Sen was the chief guest at the teaser launch event organized in this regard. In this event,
Vishwak Sen said, Ranjith, the producer of this movie, is my friend. I wish I had a brother like him. Looking at these directors, I feel that it would be better to have a brother to help in the production and to be a support like this. Anandi will not make any film, it has a lot of importance, then she will sign thr project. The movie is going to release on November 3. I wish blockbuster hit for the team. The producer should get good profits. Everyone should watch the movie in the theatre.
Producer Ranjith said, 'Our directors and hero have done a wonderful job. It will not feel like their first movie. No one can imagine the story of the movie. It will be wonderful. The story is very fresh. Everyone should watch our movie in theatres ans support us.'
Director Srikanth said, "I think my content should speak before me. We are coming with good content. The film is going to release on November 3."
Cameraman and director Srinath said, 'Currently Telugu cinema is in a good phase. All types of films are loved by the audience. We hope the audience will like our film too. Thanks to Vishwak Sen for coming to our event and supporting our film. The film will be international level. Everyone in the team worked very hard."
Rohit Nanda said, 'I am happy that Vishwak Anna came and supporting us. This is a great thing for us. Our director Srikanth and Srinath have done a great job. It doesn't look like it was done by the debutants. There are many surprises in the movie. Hope everyone likes it. The movie is going to release on November 3.'
Anandi said, 'I am happy that our teaser launch is happening among the audience. Thanks to Vishwak Sen for coming to our event. It is a film made by a new team. Both our directors have never worked in the film industry till now. They have no experience. But they made a wonderful film with a new take. Everyone will like this movie. Rohit acted brilliantly. After many days the Telugu film in which I acted will be released on November 3rd. I hope everyone will support.
Teaser Link: https://www.youtube.com/watch?v=Wc1yEIsJ6i8