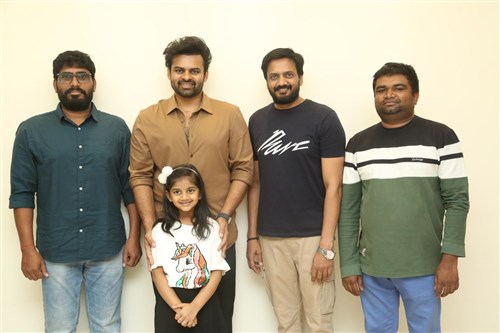 Supreme Court Justice Saidharam Tej said that the teaser of this movie is very interesting; it arouses the desire to watch the movie, and the movie should definitely be a success in Telugu. I hope Sai Anna and the director and producer of the film get more opportunities. I wish all the best to all those who worked on the film. Hero Sai Ram Shankar said that we are very happy to release the teaser with Supreme Hero Saidharam Tej. Two songs from our movie that have been released so far have received a very good response and were trending on YouTube, and we are very happy to get more than one million views. The teaser of our movie will be better than the songs. The movie has come out very well. Once again, I would like to thank our producer, Supreme Saidharam Tej, for releasing this teaser, and I hope you will definitely like it.
Director Naveen Reddy said, "My sincere thanks to Saidharam Tej, who released the teaser. My humble salutations to the Telugu audience for giving good reach to our songs. I hope the same response for our trailer." "I think I have conquered the trust placed in me by our hero, Sai Garu." I also thank the producer for giving me this opportunity and having faith in me.
Producer Devaraj Garu said, "I am happy that the teaser of our movie has been released by the hands of Saidharam Tej." "The movie has turned out very well, as we expected, and we all strongly believe that it will be another good movie in the hero's career." This movie will be released in summer 2023. Currently, we have completed the post-production work and are planning to release in Summer Hero Sai Ram Shankar, heroine Yash Shiva Kumar, Sunil, Kashi Vishwanath, Posani Krishna Murali, Prithvi, and others are acting.
Director: Naveen Reddy,
Producer : Devaraju Pottur
Music Director : Bheems
Camera Man : Mutyala Satish
Executive Producer: Janagani Karthik, Sripal Cholleti,