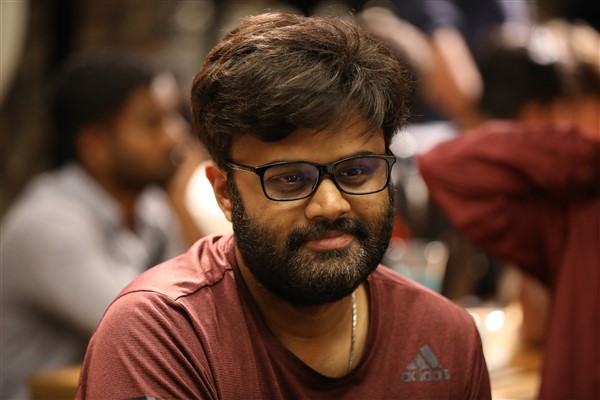 * The hero, Nani and the director Gautham have worked very hard to achieve this.
* I moved my career path into films from software on the advice of my Uncle. (Chinna babu garu)
* Rang De is filled with humor and entertainment in the first half and comprises of engaging emotions in the second half.
The movie 'Jersey', bankrolled by Sithara Entertainments in 2019 with natural star Nani as the lead, directed by Gautam, produced by young producer Surya Devara Naga Vamsi has received a National Award as the 'Best Telugu Film'. Also, the editor for this film, Naveen Nooli has received the National award for the 'Best editing' on the national level.
With gratitude and happiness for receiving these 2 awards, producer Naga Vamsi is busy with the promotions of Rang De which is set to release on 26th March. On Tuesday, Surya Devara Naga Vamsi spoke to media about the success of Jersey, details about their upcoming release Rang De and also about the upcoming projects under the Sithara Banner.
Congratulations on receiving two National awards for Jersey. How are you feeling for receiving such a prestigious award?
We anticipated that Jersey would win awards. Because of the pandemic, the National awards for 2019 didn't take place. We also for busy with work and forgot about it. But with this sudden announcement we were both surprised and elated. This is the first time one of our films has recieved a National award which is the cause of our great joy. Hero Nani has put in a lot of effort for this movie, he worked quite very hard. Gautham thinnanuri the director has also put in everything he had into the movie.
Why did you want to make Jersey?
I really liked the story when Gautam narrated. Also I really like the sport cricket. With the story comprising of cricket elements and good emotion I connected with the story.
Getting awards is fine. But are you satisfied with the business that Jersey did on a commercial aspect?
Though the commercial angles were less in the movie both Nani and I really believed the script. Other than the areas in Rayalseema and Guntur Jersey did well commerically in all places including overseas.
Did you hope to receive awards in other departments as well other than the awards you have received?
Best actor Award for Nani, best director award for Gautam were anticipated in Filmfare. Really surprised that we received national awards in the 2 categories that we did. Jersey is a thoroughly deserving movie for all the awards it's recieving.
What was the response from within the industry?
Everyone from the industry congratulated. Few through phones and few through social media. I am grateful for everyone's support.
What is your response on maharishi receiving 2 awards?
This is really happy news. Maharishi is a movie with a really good concept. Mahesh Babu did a great job in the movie which is about famers and their troubles. Director Vamshi Paidipally did an amazing job. I congratulate the whole team of Maharshi.
What is your role and contribution in the banner Haarika and Haasine?
Haarika and Haasine and Sithara are more or less the same banner. My involvement with Haarika and Haasine is more to be honest. Whenever I get a script that I like I forward to it my uncle Chinna Babu garu. If he likes it we proceed with the movie.
Are you happy producing films coming from a software background?
I came because of my Uncle. He worked really hard to get to the place where he is. I'm also a huge admirer of Dil Raju garu. I am happy that my banner earned the reputation of producing good films.
What can you tell about Rang De?
Rang de is a youthful family entertainer. A 24 year old Engineering student's story. It is a story with good emotions. everyone will be impressed with Nithin's acting
Why did you end up shooting in Dubai when Italy was planned?
The story demanded the charters to go to Italy. But because of the covid situation we had to shoot in Dubai. We changed the story line as well. The shooting schedule went well in Dubai.
When is the movie with Trivikram and Junior Ntr going to start?
The shooting would commence on either April end or in the first week of July.
Can you talk about Ayyappanum Koshayam remake?
It's a story about two people and their egos. The characterization would be the same as in the original. Few situations would be changed or merged.
Can you tell us the reason behind selecting Sagar Chandra for direction and Trivikram for screenplay?
We trust Sagar's direction skills. The project became big with Pawan Kalyan garu and Rana garu coming on board. To balance we had to rope in a big name like Trivikram garu.
Who are the heroines?
We didn't yet finalise the actress who is going to act opposite Pawan Kalyan garu. Aishwarya Rajesh is acting opposite Rana.
What about your upcoming projects?
Varudu kavalenu under the Sithara Banner is up next. kappela movie in Malayalam is being remade with the title Butta bomma. Narudu brathuku natana is another movie. We're also doing a movie with bellamkonda ganesh.
Corona cases are rising again right? Are you concerned about audience coming to the theatres?
My personal opinion is that there is no reason for concern. The severity of the virus has come down. I don't think there will be another lockdown. All the elder's are getting vaccinated as well.
What is your response about movies doing well post the lockdown?
In 2020, ala vaikuntapuram, sarileru neeku evaru and Bheeshma were huge hits. Then the lock down came. After the lockdown movies are doing better than expected. This a good sign for the film industry. We hope that this trend will continue