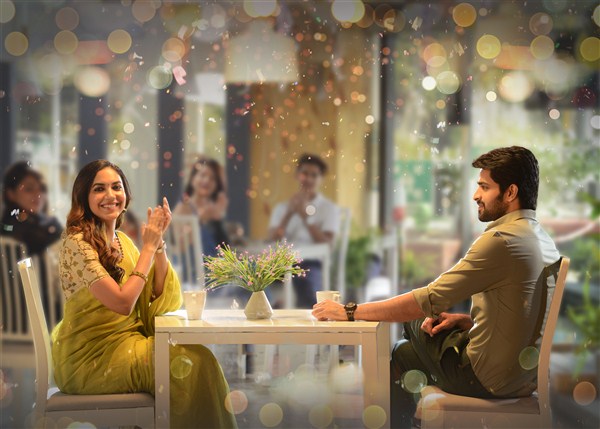 'Varudu Kaavalenu' ….! wsihes you all a very Happy New Year
* Naga Shourya and Ritu Varma looked very cute in the poster
Prestigious production company Sithara Entertainments new movie starring Naga Shourya and Ritu Varma with an debutant director Lakshmi Sowjanya named as 'Varudu Kaavalenu' recently as we all know. Recently an official advert with an beautifull video regarding this has been released and received well by the public as well. In the video Naga Shourya and Ritu Varma looked very beautifull. For this small byte Vishal Chandrashekhar's music took it to next level and people enjoyed the music and got very well response. Title Varudu Kaavalenu will be very apt to the story said Producer and Director.
2021 New year wishes conveying… team has released an poster, which looks so cute with the leading pair Naga Shourya and Ritu Varma.
In Hyderabad the shoot is in progress with all the main crew along with Naga Shourya and Ritu Varma. On behalf of whole Varudu Kaavalenu team a very Happy New Year wishes to all the people, press.
Naga Shourya and Ritu Varma as a leading pair, Nadiya, Murali Sharma, Venela Kishore, Praveen, Ananth, Kiriti Damaraju, Rangasthalam Mahesh, Arjun Kalyan, Vaishnavi Chaitanya, Siddiksha are the main leads.
For this movie
Dialogues: Ganesh Kumar Raavuri,
Cinematographer: Vamsi Patchipulusu,
Music : Vishal Chandrashekhar
Editor: Navin Nooli
Art: A.S Prakash
Presents by: P.D.V Prasad
Produced by: Surya Devara NagaVamsi
Story – Screenplay – Direction: Lakshmi Sowjanya
The ultimate search for a groom will leave you in splits this summer 2021!💖
#VaruduKavalenu team wishes you all a very Happy New Year! 🎇 #Hello2021
@IamNagashaurya @riturv @LakshmiSowG @Composer_Vishal @navinnooli @vamsi84 @ganeshravuri @sitharaents
L.VENUGOPAL
journalist, P.R.O
+91 9949912346