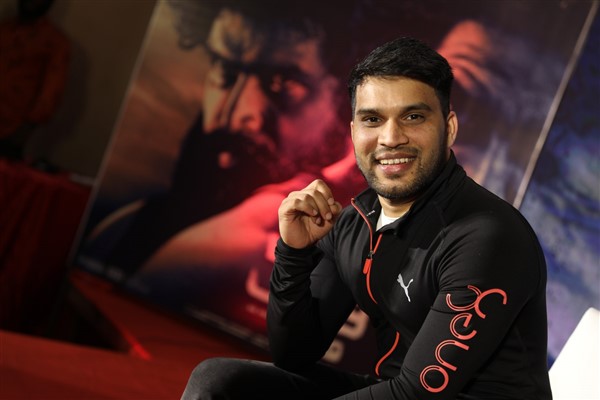 'Muddy' is India's first mud race movie made at the Pan India level. The film is a pan-Indian attempt and will have its theatrical release in five Indian languages: Telugu, Kannada, Hindi, Tamil, and Malayalam. A never-seen-before, intriguing and magnanimous concept that will bring light on the mud-racing is directed by Dr. Pragabhal. He is making his debut with this never-before-explored concept film. 'Muddy' features Yuvan and Ridhaan Krishna in the lead roles. Prema Krishnadas produced the film in a prestigious manner on the PK7 Creations banner. The teaser of this adventurous mud racing film has garnered more than 10 million views and is currently trending on social media. On this occasion Director, Dr. Pragabhal interacted with media at Dasapalla Hotel, Hyderabad.
Worked very Hard In Those Three Stages
I have completed my Ph.D. in Management. Our entire team worked very hard for five years to present a unique film to the audience. Coming to an off-road mud race, it's very new to the Indian Film Industry. So, it was very challenging in all three stages… Pre-production, Production,, and post-production stages. In the pre-production stage, I have to find the apt artists, proper locations, and a lot of other things. After finding them I have given two years of training to them to do the real mud race with a proper trainer. Artists performed the stunts realistically without any dupe or junior stuntmen.
Shot Realistically
Real mud racers acted as a background players in this film. The real challenge in making this film is to introduce the mud race sport to the audience and make them getting used to it without losing it's thrill and punch. We shot the races and chases in mud very realistically. This will surely give the audience a new kind of thrill. It took almost an year for me to find the proper adventurous locations for 'Muddy'. We faced a lot of challenges while making this film. Our team stood with me at every step. Thanks to them.
We Used Real Modified Vehicles
We used National level Real mud racing tracks and real modified vehicles for 'Muddy'. Usually we see single mud race tracks in India and abroad. I did my research and incorporated another two kind of mud tracks. So, you will see three mud race patters in this film.
KGF Fame Ravi Basrur's Music & Hollywood Fame KG Ratheesh's Cinematography This film has a strong story which deals about rivalry and revenge between two teams, it also has family drama, love, comedy and adventure. Sound and Visuals plays huge role in these kind of films. So, I approached KGF fame Ravi Basrur for Music and RR. He loved this concept and composed terrific music for 'Muddy'. Hollywood Cinematographer KG Ratheesh shot brilliant visuals. The audience will experience the real ambience of mud racing with 'Muddy'. I came to know there have been some instances where some attempted this genre and got failed. I wanted to make my first film with a unique concept. That's why I chose this adventurous theme. This movie is made so that all age groups will understand and enjoy this film.
Shoot In Forest Locations Is Very Challenging
Muddy' is majorly shot in hill stations at Kerala and Tamil Nadu. As per story, we need such kind of locations for this film. I was quite challenging to shoot in forest locales.
Very Happy And Thrilling To Know That Audience Have Accepted Our Efforts
I am glad that the teaser has crossed 10 million views. Especially, it feels more thrilling to know that the audience have accepted our genuine effort. The film is currently undergoing its post-production works. 'Muddy' will have a straight release in Telugu, Kannada, Tamil and Malayalam languages while it will be dubbed in Hindi and other languages. We are planning to release the film worldwide in April last week or May first week.
Yuvan, Ridhaan Krishna, Anusha Suresh ,and Amit Sivadas Nair are the lead artists in the film, while Harish Peradi, I M Vijayan & Renji Panicker will be seen in pivotal roles.