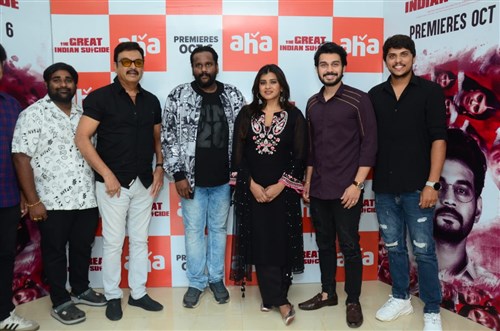 "The Great Indian Suicide" is a suspense thriller film based on real incidents that occurred in Madanapalle. The film is set to premiere on October 6th. Directed by Viplove Koneti and Starring Hebha Patel in the lead role. The film also Actors Ramkarthik , Naresh VK, Pavithra Lokesh, and Jayaprakash in significant roles.
Director Viplove Koneti spoke about the film and expressed gratitude to the technicians. He mentioned that Naresh's performance has a significant impact despite having fewer scenes. He also praised Pavithra Lokesh's character in the film and mentioned that the movie would show Hebha Patel in a different light.
Heroine Hebah Patel
said that the movie will stream on Aha and everyone can watch on it.
Hero Ram Karthik thanked media initially and said it's difficult to confine the movie to a particular genre but everyone will experience thrill from the movie.
The film will be available for streaming on Aha platform from 6th October.
Viplove Koneti urged the audience to watch the film, emphasizing its thrilling aspect.
Film Details:
Cast: Ram Karthik, Hebba Patel
Screenplay, Production & Direction: Viplav Koneti
Producer: Viplove Koneti
Music Director: Sri Charan Pakala
Banner: Siranj Cinemas, KSV Presents
Starring: Naresh VK, Pavithra Lokesh, Jayaprakash
Editor: Dharmendra Kakarala
Art Director: Upendra Reddy
Story: Dr. Jivago
Music Conductor: Sri Charan Pakala
Programming: Sri Charan Pakala
Associate Programming: Shamma Marks
Trailer Editor: SJ Shivakiran
PRO: Madhu VR
Digital Media: Dheeraj, Prasad Lingam