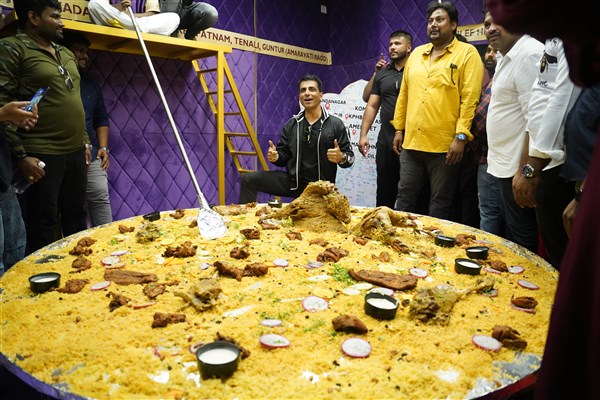 Messiah of every common man, Sonu Sood was once again honored as Gismat Jail Mandi near Kondapur, Hyderabad launched the biggest plate in India 'Sonu Sood Plate' across all 17 branches for the man with the biggest heart.
Sonu Sood appreciated Gismat Jail Mandi for coming up with such an innovative idea around food that'll only enhance joy among people. Gismat Jail Mandi founder Gautamy Choudary also added that it's named after actor Sonu Sood because the actor has a big heart.
Speaking of the Sonu Sood plate, it can accommodate as many as 12 members of a family to feast all at once. It also has a variety of food which has us drooling. The plate has already become a raging success in Andhra Pradesh & Telangana. Families have flocked to the restaurant just to eat the Sonu Sood plate & enjoyed it to their hearts content. At the launch, fans were present at the restaurant to just catch a glimpse of the actor, click selfies & thank him for his humanitarian work he's been doing non-stop.