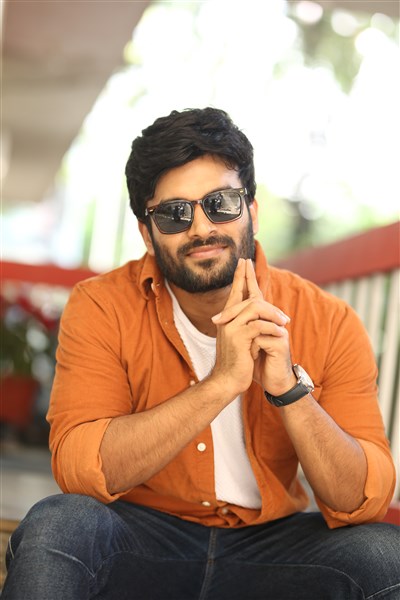 Dinesh Tej, Hebah Patel, and Payal Radhakrishna starrer feel-good love and family entertainer 'Ala Ninnu Cheri' is carrying good reports. This movie is presented by Kommalapati Sridhar under the banner of Viision Movie Makers. Maresh Shivan directed the movie, while Kommalapati Sai Sudhakar produced it. Oscar-award winner Chandra Bose penned the lyrics and Subhash Anand composed the music. The film will hit the screens on November 10th. Today, hero Dinesh Tej interacted with the media.
Dinesh Tej says he tried something new with Ala Ninnu Cheri. "I played a commercial character. I hope everyone will like it. This story will have the conflict that every middle-class boy faces. It will show what is more important- whether it's love or goal. That point inspired me to do this film."
The actor says he got a good name with 'Play Back' which was released during Corona times. "That movie got good reviews. I got good compliments. After that, a film came to the theatre, but it did not impress much. Now let's see what kind of appreciation I will receive for this film."
Dinesh Tej reacts to the difficulties of actors without any background. "Everyone in the industry has difficulties. But we have to carefully select the scripts that come to us. We need to do movies that will appeal to large sections.
He says the character Ganesh he played in the movie is close to his heart. "I also have the same passion as Ganesh's character to get into films."
Dinesh affirms he shared a wonderful chemistry with both heroines. "There's nothing much to say about Hebah Patel. She acted amazingly. She was very friendly on the sets. Now the audience will know about Payal's performance. The chemistry between the three of us is good."
As is known, Chandra Bose penned the lyrics for all the songs in the film. "The songs written by Chandra Bose are wonderful. He got the Oscar award by the time he was writing songs for our film."
All the songs in the movie turned out to be chartbusters. Dinesh says, "Subhash Anand will go to the next level after this movie. He's given very good music for our film."
About his experience of working with director Maresh Shivan, Dinesh affirms, "Maresh worked as the art director for my movie Husharu. A year after the release of that movie, he came to me and narrated me this story. Since I already knew the story, I immediately said okay."
On competing with biggies, this week, Dinesh says, "We didn't know that Jigarthanda Double X and Japan are also coming this week. However, if the film is good, the audience will surely watch it. They, however, will come out with the satisfaction of watching a good movie. Hebah's character will be connected more in this film."