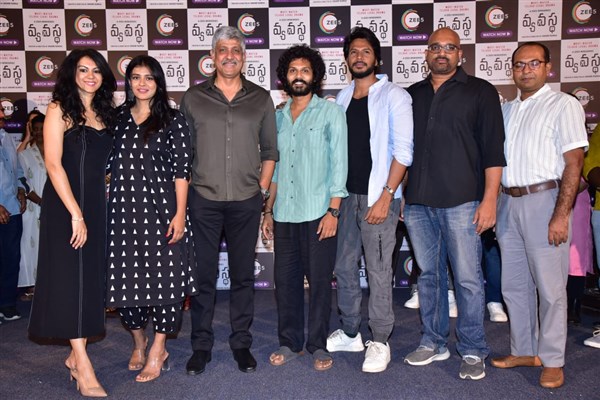 Streaming giant ZEE5 which has been consistently delivering unique and intriguing content occupied a special place among the audience in the OTT space. The latest addition to their streaming library is the original, 'Vyavastha'. This thrilling courtroom drama struck a chord with the audience for its impressive storytelling. Anand Ranga has created the series apart from backing it along with Pattabhi Chilukuri. 'Vyavastha' has already clocked 150 million streaming viewing minutes and cruising ahead. Elated over the grand reception, the 'Vyavastha' team held a success meet. Hero Sundeep Kishan geared the event as chief guest. On this occasion…
Teja Kakumanu says, " I don't praise the director much as he is my brother. I am proud of our Karthik, Sampath sir, and the entire team."
Actor Guru Raj says, " Thanks to Anand sir, Pattabhi sir, Sampath sir, Venkat, and all the cast and crew. This is one of the best roles I have done so far. I have been receiving congratulatory messages and calls from friends and family."
Actress Bindu Chandramouli says, " Clocking 150 Million viewing minutes is huge and I am overwhelmed by the applause I received for my role in 'Vyavastha'. Thanks to Anand Garu for writing such a small and powerful role for me."
Actress Sukrutha Wagle says, " I am an advocate as well an actor. When I got the role, I instantly got connected with it. I am getting a lot of messages on my Instagram praising the series. Congrats to all of us and ZEE5 over the success of 'Vyavastha'."
Karthik Rathnam says, " Sundeep Kishan Anna has been my strong support system. I am very glad to work with Anand Ranga Garu. It is a privilege. Pattabhi Garu acted gutsy while producing this series. Thanks to Sampath Raj, Anil sir. Happy to work with Hebah Patel and Kamna Jethmalani. Thanks to the entire team. Thank you team ZEE5 for your invaluable support. They have been promoting 'Vyavastha' very well. Thanks to the audience for giving us such a huge success."
Hebah Patel says, " 'Vyavastha' series is garnering a tremendous response. Thanks to the audience, Anand Ranga Garu, and the entire team for delivering such an amazing success."
Kamna Jethmalani says, " I am feeling excited and nervous because I made my comeback after six years with this series. Despite the small character, I accepted it as it plays a very important role in the plot. Thanks to Sampath Garu, Karthik Rathnam, and Hebah Patel."
Sampath Raj says, " Thanks to Anand Ranga Garu for believing in me and for giving me this opportunity. Thanks to Venkat, Pattabhi Garu, and the entire Direction team. Many did ask me why I was doing 'Vyavastha'. But, I told them that I believed in the script. 'Vyavastha' got connected with the audience like a slow burner. It proved once again that if the content is good, the audience will surely lap it up. ZEE5 with their marketing strategy made this a super success."
ZEE5's Telugu Original Content Head, Vice President Saiteja Desh Raj says, " 20 days ago we promised that we will score a Hit with 'Vyavastha'. It turned out to be a summer blockbuster for ZEE5. Thanks to the Telugu audience for making 'Vyavastha' such a grand success. After Recce, Puli Meka, ZEE5 has now once again impressed the audience with Vyavastha. We are coming with much better content in the coming days."
Director Anand Ranga says, " I always consider my team as my family. That's why I can generate very good output. Content is right before you. It's your turn to watch and enjoy it."
Producer Pattabhi Chilukuri says, " Thanks to ZEE5 and Anand Ranga Garu. The series is getting very good reports. I am feeling very happy now with the success."
Sundeep Kishan says, " Everyone who has worked for 'Vyavastha' is very near and dear to me. I am waiting to do a film with Sampath Garu. I have known Kamna Jethmalani since I worked as an assistant director. Contrast to Hebah Patel. I like Karthik Rathnam very much. He performed superbly in 'Vyavastha'. Congrats to ZEE5. I like the way they bring their content close to the audience. I know Director Anand Ranga Garu since my film 'DK Bose'. I was curious about how he handled 'Vyavastha'. I have waited and watched the series. Congrats to the entire team. Thanks to the audience for their incredible support with more than 150 million viewing minutes."
Cast:
Karthik Rathnam as Vamsi, Sampath Raj as Chakravarthy, Hebah Patel as Yamini, Kamna Jethmalani as Gayatri, and others
Crew:
Written And Directed by Anand Ranga, Producers: Pattabhi Chilukuri, Anand Ranga, Cinematography: Anil Bhandari, PRO: Beyond Media
About ZEE5:
ZEE5 has been relentlessly dishing out a wide variety of content in various formats in Telugu, Tamil, Kannada, Malayalam, Hindi, Marathi, Gujarati, Bengali and other languages. ZEE5 has made a name for itself nationwide as a prominent streaming platform since its inception. After presenting the comedy-drama 'Oka Chinna Family Story' from Pink Elephant Pictures, 'Loser 2' from Annapurna Studios stable, 'Gaalivaana' from BBC Studios and NorthStar Entertainment, 'Recce', 'Hello World', 'Maa Neella Tank', 'Aha Naa Pellanta', 'ATM' and 'Puli-Meka' this year, the streaming giant is looking forward to offering many more Originals. Now, 'Vyavastha' is the new addition in its slate.