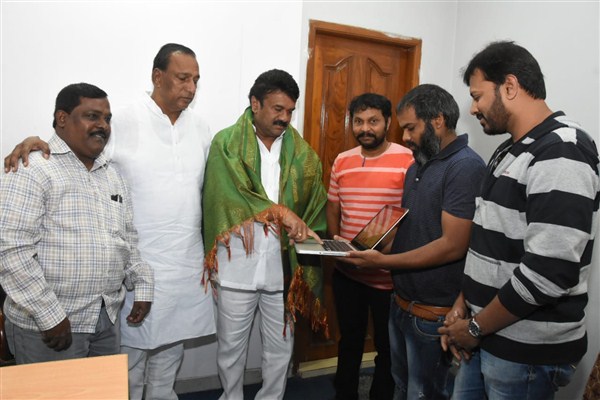 Sudigaali Sudheer who is quite popular with TV shows like Jabardasth, Dhee, Pove Pora is starring as a hero in a film titled 'Software Sudheer' co-starring 'Raju gari Gadhi' fame Dhanya Balakrishna as a heroine. 'Software Sudheer' is produced by Popular Industrialist K.Sekhar Raju in Sekhara Art Creations as production no – 1. Rajasekhar Reddy Pulicharla is debuting as director with this film. The recently released teaser of the film has received a superb response from the audience garnering 1.5 million real-time views. Telangana Cinematography Minister Talasani Srinivas Yadav has launched a special website for 'Software Sudheer' film. Telangana Minister Malla Reddy, Talasani Sai, Producer K Sekhar Raju, Director Rajasekhar Reddy Pulicharla attended the event. The website comprises all the details and content about the film. Makers are planning to release the film in the second week of December.
Sudigaali Sudheer, Dhanya Balakrishna will be seen as lead pair while People's Singer Gaddar will be featured in a song. Principle cast involves senior actress Indraja, Posani Krishna Murali, Nazar, Sayaji Shinde, Dr. N Siva Prasad, Prudhvi, Sanjay Swaroop, Ravi Kaale, Vidyullekha, Tarzan in other important roles.
Editing: Gowtham Raju, Cinematography: C Ram Prasad, Art: Narayana Rao, Music: Bheems Cecerolio, Fights: Ram – Lakshman, Nandu, Stunt Joshua, Anji, Dance: Aneesh master, Publicity Designer: Dhani Aelay, Production Executive: Bhikshapathi Thummala, Songs: Gaddar, Suresh Upadhyaya, Producer: K Sekhar Raju, Story, Screenplay, Dialogues, Direction: Rajasekhar Reddy Pulicharla.