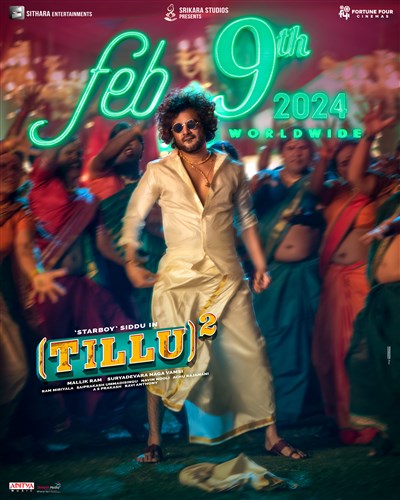 Starboy Siddu came up with a great entertaining character like Tillu in the cult blockbuster DJ Tillu. He and the producers, Sithara Entertainments have decided to come up with a sequel to the film as many wanted to watch him again in action.
They announced the sequel with Double the Fun and Masti, Tillu Square. As many people have huge expectations from the film and it is eagerly anticipated, the makers did not want to rush and are taking their time to make it as entertaining as the original.
Producer Suryadevara Naga Vamsi stated that Tillu Square will live up to the cult status of the original and they are working towards it. Now, they are ready to bring the movie on 9th February, 2024.
Tillu Square has Anupama Parameswaran in the leading lady role. Makers promise the role will be as memorable as Radhika, played by Neha Sshetty, in the original. Already, the oomph factor that is oozing out from Anupama's appearance has become a huge talking point.
Makers have released the song, Ticket eh Konakunda, composed and sung by Ram Miriyala and the song has become huge hit. Tillu Square will release in February and makers are promising that it will entertain audiences just like the original, once again.
Sai Prakash Ummadisingu is handling cinematography for the film while Navin Nooli is editing the movie. Mallik Ram is debuting as director with Tillu Square. Sai Soujanya is co-producing on Fortune Four Cinemas and Srikara Studios is presenting the film. More details will be announced soon.
—
L.VENUGOPAL
journalist, P.R.O
+91 9949912346