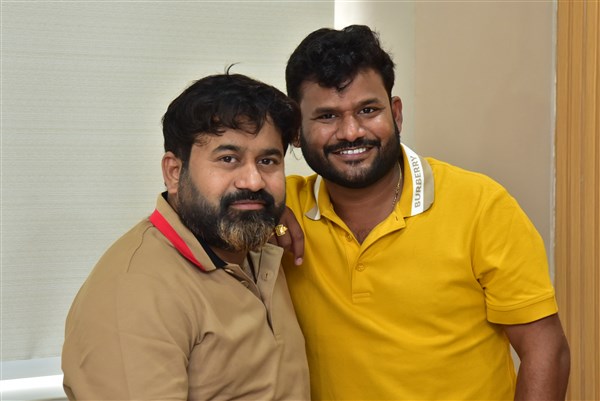 The movie 'Slum Dog Husband' starring Sanjay Rao and Pranavi Manukonda. This movie which started as a small movie is going to be released by a big production like Reliance Entertainment. Produced by Mike Movies banner, the film is directed by dashing director Puri Jagannath disciple Dr. AR Sridhar. Produced by Appireddy and Venkat Annapareddy, this film is going to release on July 29. On this occasion, the producers interacted with the media about the film.
Ours is Suryapet district. We also had a theater in town. That's how we got interested in movies. I went abroad as a businessman. We even produced a Hollywood movie there in 2016. DOP of Jurassic Park worked for that film. We came to India in 2017.
Slum Dog Husband is a complete entertainer. We are also give an underlying message. A satire on superstitions. It can be said that it is a musical entertainer. This story seems very new. Everyone will laugh theatres.
We wanted to cast a Telugu girl as the heroine. We auditioned two and three. Finally we locked Pranavi.
I felt good when I heard George Reddy's story. We made that film to tell a story of a Rebel. We started our company with a vision. We want to make good movies. Six more projects are ready in our production. We are making films with new directors. We are looking to tell some stories to big heroes.
Sanjay is a dog lover. It was this movie that made him want it
New movies are coming every Friday. Bro is coming on friday. We are coming on Saturday. The movie is full of laughs. Music is good. We will make the audience laugh for two hours.
Brahmaji believed in this movie. He is promoting the movie instead of us. He is giving full support to this movie.
Sreeleela and Sukumar are going to be the chief guests for the pre-release event of Slum Dog Husband. We are going to hold a pre-release event on July 27.
We have given opportunity to many people through Mike TV. We introduced many folk singers.
I mostly focus on movies. My brother (Venkat Annapareddy) focuses on business. The story is all right but I will tell my brother later. So far we have not approached any director or any hero and narrated the story. Many stories are coming to us. We are going to release two more films this year.