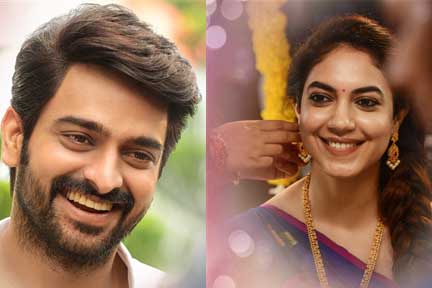 * Naga Shaurya and Ritu Verma 'Varudu Kaavalenu'
* Video has been released on finalizing the name of the movie
'Varudu Kaavalenu'….!
Upon hearing this it felt like a similar ad in the magazine of the 'bride"s parents searching for a suitable 'groom' for their daughter. But this is the name of the movie. What you heard is true.
Sithara Entertainments, an prestigious film company with young hero 'Naga Shaurya' and heroine 'Ritu Verma'.
Introducing 'Lakshmi Sowjanya' as the director for the upcoming film named as Varudu Kaavalenu'. By now an official announcement has been made and an impressively beautiful video has been released.In this video the hero 'Naga Shaurya' and heroine 'Ritu Varma' looks so beautiful. The background music provided by Vishal Chandrashekar added even more vanity to this movie. The director and producer of the film have expressed the belief that the name 'Varudu Kaavalenu' is completely appropriate for the story of the film.
The film is currently shooting in Hyderabad. Scenes are being shot with the film's hero and heroine as well as the main cast. On behalf of the film unit, Diwali wishes were extended to the audience and the media.
'Naga Shaurya', 'Ritu Verma' as hero heroines, the other main cast are Nadhiya, Murali Sharma,Vennela Kishore, Praveen, Anant, Kiriti Damaraju, Rangasthalam Mahesh, Arjun Kalyan, Vaishnavi Chaitanya, Sidiksha and remaining other main characters.
For the film the
Cinematography: Vamsi Patchi Pulusu, Music: Vishal Chandrasekhar, Dailogues: Ganesh Kumar Ravuri; Editor: Naveen Nooli, Art: A.S. Prakash, Presents: P.D.V. Prasad.
Producer: Suryadevara Naga Vamsi
Story-Screenplay-Direction: Lakshmi Sowjanya
మా అపరంజి బొమ్మకు తగిన #వరుడుకావలెను. ఎలా ఉండాలి అంటే….?image.gif
ఇదిగో… ఇలా….!
Presenting you #VaruduKaavalenu First Glimpse image.gif
@IamNagashaurya @riturv @Composer_Vishal @LakshmiSowG @vamsi84 @ganeshravuri @SitharaEnts
P.R.O. : L. VENU GOPAL 99499 12346