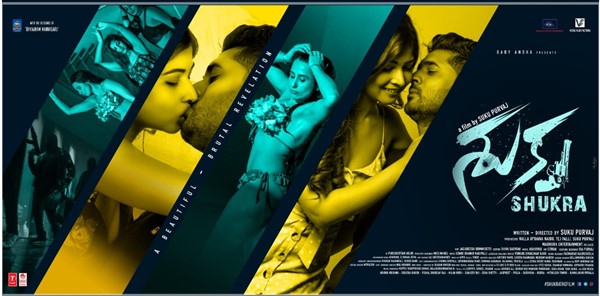 Film: Shukra
Cast: Aravind Krishna, Srijitha, Vishal Raj, Sanjeev, Esha Shetty, and others
Music: Aashirwad
Costume Designer: Riya Purvaz
DOP: Jagadeesh Bommisetty
Producers: Ayyanna Naidu Nalla, Tej Palle
Director: Suku Purvaz
moviemanthra.com;Rating: 3.5/5
Story:
Thugs is a Mafia gang that is responsible for a lot of crimes in Vizag city. William (Aravind Krishna) reaches Vizag to set up his own business in the city. Along with him, his wife Riya (Srijitha Ghosh) also comes there. Riya wants William to spend maximum time with her and when they come to Vizag, they get some privacy. One day, there is a party at Riya's house. Riya and two others get murdered there. Who is behind the murder? Why did they get killed? What happens in the end? Forms the story of the movie.
Review:
Shukra is a brilliant thriller. Director has made sure the film looks good and colorful from the first frame itself. Every scene clearly proves that the director has a great command of the film's script. The creative screen presence of the filmmaker is completely visible on the screen. The film came out well until the climax sequence.
The twist that comes in the interval is the major highlight of the film. The second half of the movie has created enough curiosity in the movie and generated the right interest in the film. The 2 thousand rupees diamond smuggling has created a unique curiosity in the film. The film is technically strong.
Jagadeesh Bommisetty's cinematography has come out well. Coming to the performances of the actors, everything about the film is impressive.
Aravind Krishna played his performance so well. He did well in the scenes with the heroine. The actor's body language is very good. The actor's performance is brilliant, especially, in the emotional scenes. Srijith looked beautiful on the screen and has played her part well. The rest of the actors who played the main leads, and police characters are good too.
The film's director also hinted that there will be a sequel for the film. On the whole, Shukra is an innovative film that has generated great interest. Watch it out!
Punch Line: 'Shukra' is an innovative and brilliant thriller!