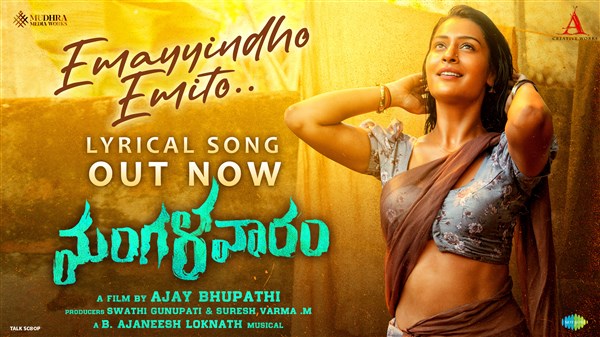 The film to have pan-India release on November 17
After 'RX 100' and 'Maha Samudram', super-talented director Ajay Bhupathi is returning to the big screen with 'Mangalavaaram'. Produced by Swathi Reddy Gunupati and Suresh Varma under the banner of Mudra Media Works, the film has Payal Rajput in the lead role. 'Rangam' fame Ajmal Ameer has a prominent role. The creators of the thriller drama have announced that the film will be released on November 17th in Telugu, Tamil, Kannada, Malayalam and Hindi.
The film's second song, titled 'Emayyindho Emito', was released today. B Ajaneesh Loknath, who bowled over the audience with the pan-India hit 'Kanthara' and the Telugu blockbuster 'Virupaksha', has given excellent music to 'Mangalavaaram'. Chaitanya Prasad has written the lyrics, while Harshika Devanath rendered the song.
The song has been set in the backdrop of the beautiful Godavari countryside. Shot on Payal Rajput and Ajmal Aameer, this one presents the actress in a refreshing way. The 'RX 100' director, who showed Payal in a novel way in that film, is back to show her in a special way yet again. The melody would make you want to listen to it again and again.
The first song 'Ganagana Mogalira' from 'Mangalavaaram' has already been a hit. Through that song, the director highlighted the sense of dread among the people of the village. The song also gave some hints about a murder taking place every Tuesday. In the latest song, the romantic interest in Payal's character has been brought out.
Producers Swathi Reddy Gunupati and Suresh Varma said, "Ajay Bhupathi's songs are very special because they tell a story. They are not just musical interludes. 'Emayyindho Emito' is a romantic song with a certain context. The song has a lot to do with Payal's background. Like the first song, we hope this one too is going to click with the audience. The post-production work is in its final stage. The trailer release date will be revealed soon. We will release the film on November 17 on a grand scale."
Director Ajay Bhupathi described the film as a different action thriller. "It is about multiple emotions. Love is one of them. Ajaneesh Loknath has given a nice melody. We have pictured the song beautifully. I hope everyone will like this song," he said.
Ajay Bhupathi is the production partner at A Creative Works for 'Mangalavaaram'.
Cast:
Payal Rajput, Sritej, Ajmal Ameer, Chaitanya Krishna, Ajay Ghosh, Laxman and others.
Crew:
PRO: Pulagam Chinnarayana
Digital Marketing: Talk Scoop
Executive Producer: Saikumar Yadavilli
Editor: Gullapalli Madhav Kumar
Dialogue writers: Tajuddin Syed, Raghav
Art Director: Mohan Talluri
Production Designer: Raghu Kulkarni
Fight Masters: Real Satish, Prithvi
Sound Designer & Audiography: National Award winner Raja Krishnan
Cinematographer: Dasaradhi Sivendra
Choreographer: Bhanu
Costume Designer: Mudasar Mohammad
Music Director: B Ajaneesh Loknath
Story, Screenplay, Direction: Ajay Bhupathi.
Song Link: https://youtu.be/P6ZRhy4MBCU
—
Regards!
Pulagam Chinnarayana