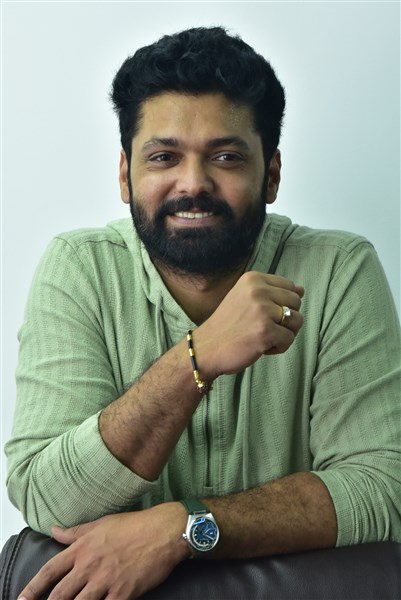 "Saptha Sagaralu Dhaati," featuring the talented duo of Rakshit Shetty and Rukmini, and skillfully helmed by director Hemanth Rao, is eagerly anticipated for its release on September 22, 2023. The Kannada original, "Sapta Sagaradache Ello," has been generating an overwhelming response from audiences across the board. Recently, Natural Star Nani added to the excitement by unveiling the trailer for the Telugu version. Released by People Media Factory, the film promises to captivate audiences with its emotionally charged storytelling.
The narrative of "Sapta Sagaralu Dhaati," as glimpsed in the trailer, unfurls across two distinct time periods, offering insights into the lives of its central characters, Manu and Priya. The film is elevated significantly by the powerhouse performances of Rakshit Shetty and Rukmini Vasanth, evocative musical compositions, the thematic presence of the ocean, and carefully woven imagery, all contributing to its profound impact. Rakshit Shetty, following the success of "777 Charlie," is poised to deliver yet another heartwarming performance.
Here are key highlights from Rakshit Shetty's conversation with the media:
Collaboration with Hemanth Rao
This marks my second collaboration with Hemanth after "Godhi Banna Sadharana Mykattu." Following the success of "777 Charlie," I was eager to explore a love story, and that's when Hemanth presented an idea that had been with him for 12 years. I instantly connected with the concept and recognized Hemanth's unique storytelling style. I'm proud to see such talent emerging in the Kannada film industry, and I was genuinely moved after watching his previous work, which led to our second collaboration. "Sapta Sagaralu Dhaati" was shot in a poetic style, and he has created a beautiful film.
Making the Film in Two Parts
Initially conceived as a single film, Hemanth decided to split it into two parts as the story naturally required an extension. The poetic nature of the film emerged during the shooting process, and both parts were shot, edited, and subsequently realized as a two-part film. The first part embodies Indian classical poetry, while the second part adopts a rock band poetry style, reflecting the evolving emotions between Manu and Priya.
Challenges of a Two-Part Love Story
We recognized the potential challenge of viewer disconnection when making a love story in two parts. To address this, we minimized the gap between the release of Side A and Side B, almost treating it like two episodes of a web series. Additionally, we ensured a 7-week gap between the theatrical releases to maintain audience engagement.
Significance of Side A and Side B
The film revolves around cassettes, set in 2010 when they were still popular. Cassettes play a crucial role in the film's narrative. While Side A has been released, we eagerly await the release of Side B.
Hemanth Rao's Evolution as a Filmmaker
Over the last decade, Hemanth has matured both as a person and a writer. As a filmmaker, he has taken on more responsibilities, particularly from a producer's perspective. In "Godhi Banna," he worked with a limited budget, but "Sapta Sagaralu Dhaati" allowed him more creative freedom.
View of Telugu Films in Karnataka
I've always aimed for my films to reach a wider audience. Telugu films have been highly appreciated in Karnataka, with many families making it a tradition to watch a film every weekend. As a child, I used to watch Telugu films on VCR tapes months after their release. It was during my engineering days, with a roommate from Kurnool, that I discovered more Telugu films, including gems like "Vedam." This experience made me realize that films like "Vedam" can resonate well, even beyond the commercial genre.
The Title "Sapta Sagaralu Dhaati"
The title originates from a beautiful Kannada poem, roughly translating to "somewhere beyond seven seas." It embodies the idea that even if we don't physically reach a place, the concept of being there can be deeply personal and meaningful in the context of love, family, and life goals.
Diverse Film Choices
I strive to explore new territory with each project, creating a broader market through some films and then delving into experimentation with others. I consider myself a storyteller both on and off-screen, aspiring to build a diverse portfolio.
Balancing Acting and Writing
In the past decade, I refrained from directing to establish a strong presence as an actor. Now, I plan to return to directing and writing, having accumulated a wealth of stories to tell.
Choosing Scripts
I have a team of writers, and I am a writer myself. If a script aligns with my profile and journey, I'm inclined to pursue it. I'm also open to opportunities like working with someone of Hemanth Rao's caliber.
Association with People Media Factory
I've known Divya from People Media Factory for a long time. After receiving much appreciation for the Kannada version of "Sapta Sagaralu Dhaati," I decided to collaborate with them for the Telugu version.
Pressure of Delivering New-Age Cinema in Kannada
I feel a greater sense of responsibility now to create films that resonate with a global audience. Historically, Kannada films didn't expand beyond regional markets as other South Indian films did. Fortunately, we've started exploring new horizons, and with quality content, we can tap into more opportunities. We need more filmmakers to contribute to Kannada cinema's growth.
Highlights of "Sapta Sagaralu Dhaati"
The film has beautiful cinematography, impactful music, and immersive sound design, making it a must-watch in theaters.
Release Strategy: Two Parts
Unlike "ASN" and "777 Charlie," which had a pan-India appeal, "Sapta Sagaralu Dhaati" caters to a niche audience. We relied on word-of-mouth and organic growth to build buzz among our target viewers, taking a different approach to ensure the producer's saftety.
Basis for "Sapta Sagaralu Dhaati"
While the story was originally conceived by Hemanth a decade ago, he has since made substantial improvements. He draws inspiration from the real world for his scenes but maintains the originality of the story.
Exploring Different Dialects in Kannada Films
Rishab, Raj, and I have ventured into various regions in our films, but there is still untapped potential, particularly in North Karnataka and Konkani dialects. We're gradually exploring these areas in films like "Richard Anthony."
Reference Music in the Film
Hemanth used reference music for every scene while writing the script. During narration, he would even play music in the background, enhancing the impact of the scenes. We collaborated closely on how each scene could be treated and how sound effects could be integrated.
Upcoming Projects
I have "Richard Anthony," a classy gangster story, followed by an OTT film based on After Life. Additionally, "Punya Koti" is in the works as a two-part project.
Potential for a Straight Telugu Film
As an actor, I am open to doing a straight Telugu film, but as a filmmaker, I believe I need a deeper understanding of the Telugu language, including its literature and folklore.
Memorable Moments from "Sapta Sagaralu Dhaati" Filming
One standout moment was during Hemanth's narration of scenes, particularly those leading up to the climax. Immersed in my character, I found myself emotionally moved during the narration. The beauty of being an actor is that you can experience emotions without actually suffering through them; you understand that it's not you but the character. Although the emotions are real, you are not personally affected by them.