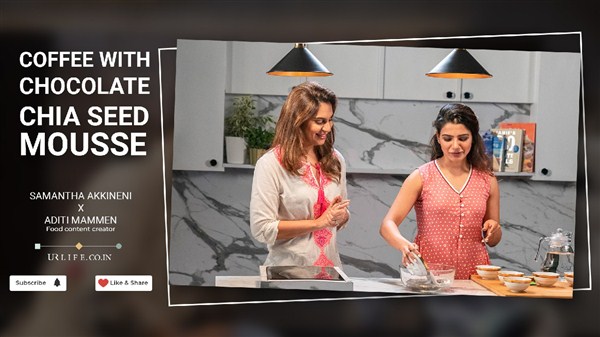 Upasana Konidela has been promoting wellness being with 'Ur Life' a platform created for sustainable well-being, holistic health, mental & emotional harmony. As part of this, Upasana collaborated with Samantha Akkineni and the star heroine is acting as Guest Editor.
In her role, Samantha is coming up with several recipes as part of 'Spice Up UR Life with Sam.' These contains a lot of health and nutritional value and can be tried at home in easy steps. The latest one is Vegan Filter Coffee & Chocolate Chia Seed Mousse.
Upasana and Samantha are coffee lovers and to come up with vegan filter coffee is a new phrase to hear and the Chia seed pudding. Chia seeds are a great source of omega 3, it can help stabilize blood sugar, promote energy and endurance.
The cooking time takes about 20 minutes with ingredients at place.