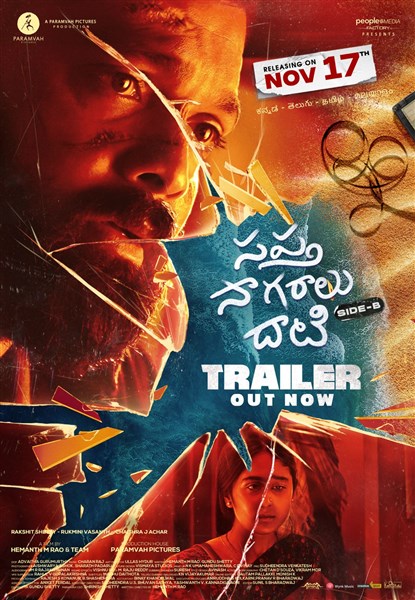 November 4th: T.G. Vishwa Prasad & Vivek Kuchibhotla of People Media Factory are delighted to announce the highly-anticipated trailer for "Sapta Sagaralu Dhaati Side B," promising another remarkable cinematic experience for Telugu film enthusiasts on November 17th.
The trailer was digitally launched by Samantha Garu on November 4th at 06:06 PM. This eagerly awaited trailer has garnered significant attention due to its intriguing and unique qualities, setting it apart from Part A. We're enthusiastic about the audience's response, and we are confident that they will thoroughly enjoy the film in theaters starting from November 17th.
Following the immense success of Side A in Telugu, we are certain that "Side B" will once again capture the hearts of Telugu audiences. The film, directed by the talented Hemanth Rao, boasts an impressive cast featuring Rakshit Shetty, Rukmini Vasanth, and Chaithra J Achar in the lead roles. Advaitha Gurumurthy, renowned for his remarkable cinematography, serves as the Director of Photography, while the music, an integral part of this film, is composed by Charan Raj.
The trailer launch marks the beginning of an exciting new chapter in this captivating saga, and we eagerly anticipate sharing this incredible cinematic journey with you.
Stay tuned for more updates and mark your calendars for the grand release of "Sapta Sagaralu Dhaati Side B" on November 17th.