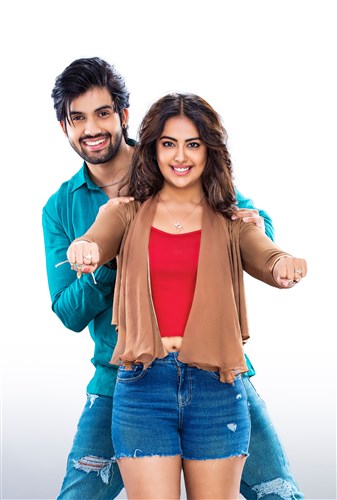 Sai Ronak and Avika Gor will be seen in exciting roles in an entertainer titled 'Popcorn', directed by Murali Naga Srinivas Gandham. Producer Madhupalli Bhogendra Gupta of Acharya Creations (of the critically-acclaimed 'Napolean' and 'Maa Oori Polimera' fame) is producing it. Avika Gor is debuting as a co-producer of the movie on her banner Avika Screen Creations. MS Chalapathi Raju and Seshu Babu Peddinti are its other co-producers. The film is going to hit the screens on February 10.
Recently, the film's trailer was released at the hands of Akkineni Nagarjuna. It showed that 'Popcorn' is content-oriented as well as fun-filled.
Today, an enjoyable song titled 'Madhi Vihangamayye' has been released via Aditya Music. Sreejo's enjoyable lyrics are among its merits. Set in a shopping mall, its dance choreography brings out the joyous mood of the lead pair – both Sai Ronak and Avika Gor dance to their heart's content.
Singers Benny Dayal and Ramya Behra render the song in such a way that their vocals reflect the elated mood of the actors. Shravan Bharadwaj, one of the most talented contemporary musicians, lets his work do the talking.
Presenter MS Chalapathi Raju is confident that the film's last 45 minutes are going to keep the viewer hooked to the screens. "Elders will reconnect with their past, while youngsters will have a blast watching the film. The movie tells the story of a dramatic, emotional journey of two characters," he recently said. Debutant director Murali Gandham's treatment is going to make a lot of difference, the makers suggested.
"The concept of this film is different. Everything about it is different. I thank the Telugu audience for always supporting me. 'Popcorn' is entirely different from my previous films," Avika Gor recently said. She is one of the producers of the movie.
"The story of this film takes place in a lift. And it is going to draw your attention completely within 10 minutes. The climax will completely be edge-of-the-seat. I myself am thrilled about it," Sai Ronak added.
Cast:
Sai Ronak, Avika Gor.
Crew:
PRO: Naidu Surendra Kumar-Phani Kandukuri (Beyond Media); Music Director: Shravan Bharadwaj; Production Designer: Bhaskar Mudavath; Costume Designer: Manohar Panja; Editor: Karthik Srinivas; Cinematographer: MN Bal Reddy; Co-Producers: Avika Gor, MS Chalapathi Raju, Seshu Babu Peddinti; Producer: Bhogendra Gupta; Story, Screenplay, Dialogues, Direction: Murali Naga Srinivas Gandham.