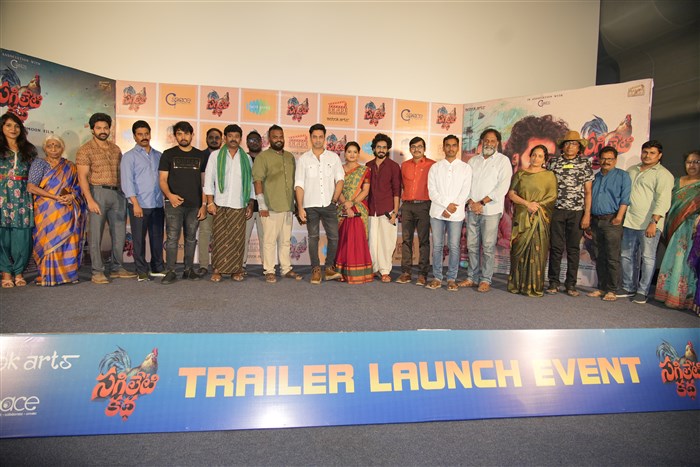 'Sagileti Katha', produced by Ashok Arts and Shade Entertainment, is led by the talented Raviteja Mahadasyam and Vishika Kota. Set in a Rayalaseema village, this content-driven film is written, edited, shot and directed by newcomer Rajasekhar Sudmoon. The comedy-drama will be released in theatres in September.
On Monday, the film's Trailer launch event was held in the presence of presenter and actor Navdeep. The event began with a funny skit centered on the pride of a hen. The film partly revolves around a character's undying itch to eat delicious chicken. There is more to the script than this element. The makers emphasized that the audience are in for surprises.
Ram Gopal Varma, whom director Rajasekhar admires a lot, conveyed his best wishes to the team of the film through a video clip. "The trailer is quite interesting and intriguing. I am amazed that Rajasekhar has handled so many crafts. My heartfelt wishes for the best result at the box-office," RGV said.
Producer Deviprasad Balivada said, "Cinema is best enjoyed in theatres. 'Sagileti Katha' is one such theatrical experience. I thank Navdeep for presenting this film. He has made it to this event despite his busy schedule. Suresh Kondeti is here to support us. I wish he becomes a Pan-India star someday thanks to some crazy producer. Sohel Ryan liked the trailer and decided to encourage us on his own. Shade Studios is glad to introduce Raviteja as a male lead. I am proud of it. Many are happy that we have made him a hero. The Telugu States are rich in terms of cultural variety and dialects. These days, rooted films are working with the audience. Take the example of 'Kantara'. 'Sagileti Katha' is for everyone."
Hero Sohel Ryan of Bigg Boss Telugu fame said that the media's support for films like 'Sagileti Katha' is essential. "I really loved the trailer for this movie. It is no joke that one person has handled multiple crafts. Rajasekhar has got perfect planning and, if the trailer is anything to go by, the planning was at a minute level. I am not saying this for the sake of it. The two producers are so passionate. In the past, Shade Entertainment encouraged 'Kanabadutaledu'. I thank Navdeep Anna for supporting this film. At his writers' collective, C Space, he is spotting talents and stories. As for Raviteja, he is quite a hard worker. The trailer is enough to prove that he is a talented actor who knows variations. Like 'Balagam', this film should become a hit."
Suresh Kondeti said that the difference between small and big films is blurring increasingly. "Small films like 'Balagam', 'Baby' and 'Samajavaragamana' have become blockbuster hits this year. 'Sagileti Katha' will follow. I also congratulate producer Dil Raju garu for becoming the President of the Film Chamber. Hats off to Navdeep, the presenter of 'Sagileti Katha', which I hope will win multiple awards. Shade Studios has been involved in post-production works. I was witness to the dedication of Deviprasad garu during the post-production of a big movie."
Producer Ashok Mittapally said, "I hope you all liked the trailer. I urge the media to support our content-driven, meaningful movie."
Director Rajasekhar said, "I am from Seema and I know its culture and traditions. A novel named 'Sagileti Katha' is only an inspiration for my movie. The story is entirely original. Reconnecting with roots and nostalgia are primary to the essence of our movie. The 'Jatara' atmosphere will be so relatable. I am a fan of RGV garu, whose debates and interviews inspire confidence in me. I am an independent filmmaker as of now. For the budget that we had, I was the best talent available and that's why I handled multiple crafts. Heroine Vishika played the child Tamannaah in 'Racha'. She used to joke that she is Ram Charan's girlfriend. She is my friend's sister. Her words made me want to cast her as the female lead. Coming to the premise of our movie, a key character's aim is to eat delicious chicken in this film. That's why a hen is at the centre but the story goes beyond." The director added that everyone on set worked without egos. "There are some surprises in store in the movie. I sincerely thank the entire team of artists and technicians," he added.
Hero Raviteja Mahadasyam said that he shares his name with Mass Maharaja, who is one of his biggest inspirations. "I have no film background. I started out as a YouTuber. Director Rajasekhar trusted me more than I trusted myself. 'Sagileti Katha' was shot in a village for 40 days. Luckily for me, the shoot got delayed by 3 days. That gave me and my heroine ample opportunity to interact with locals and observe their slang. That's why we could perform naturally. This is a purely content-driven film with cult characters."
Heroine Vishika said, "I am a Telugu girl and I have given my 100%. It is up to the audience how they receive me."
Presenter Navdeep said that he loved the film when he watched it recently and decided to present it. "I interacted with director Rajasekhar and realized that he is a self-taught filmmaker. He handled multiple crafts and his confidence convinced me that this film is a brilliant product. He is an extraordinary talent. Only a few directors manage to extract the best from all artists in a film. We can name Teja garu, Krishna Vamsi garu and Sukumar garu. In 'Sagileti Katha', Rajasekhar has extracted comedy from new artists. Comedy is the most difficult thing to pull off. You have to be either inherently talented or the director needs to be terrific. Coming to the chicken aspect in this film, chicken is associated with a range of emotions here. I am pretty sure that even vegetarians will be tempted to taste chicken after watching this movie. There is a 'Chicken Song' that is so tastefully done. I, at C Space, am glad to support movies like 'Sagileti Katha'," Navdeep said. "We have watched films like 'Balgam' and 'Care of Kancharapalem' without expectations. 'Sagileti Katha', too, is like those films," he added.